Transit of Venus live video feeds made public [UPDATED with images]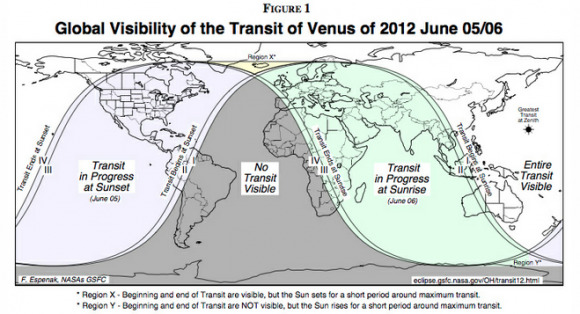 Tonight the planets will align at just the right degree and the transit of Venue will be available for your eyes to see without effort. This event generally has retina-burning qualities to it, but this year NASA and the CCSSC have live-feed video going on so that not only will you ruin your eyes, you'll be able to watch from the comfort of your own bathtub if you want. Have a seat and click on through to the other side, we'll be right here with you as our signs seek the stars and Venus shows her lovely face.
This event will have Venus traveling directly between the earth and the sun and is one of only two such events that happen every century. The first time it happened inside this century was 2004, the next time it'll happen is tonight, and the time after that will be all the way forward in the year 2117. The only other way you're going to see this event is to hypersleep (via Prometheus) your way to the future.
You'll have better luck tuning in tonight – or this weekend for the movie, as it were.
Tonight's transit of Venus will be broadcast live at the CCSSC website or at NASA's stream collection. The entire transit will start at 9:45pm UTC (11:45am local Hawaiian time or 5:45pm EST) and will go until... well until it's done! Tune in or miss out!
UPDATE: The kind folks at NASA have now posted a complete photo series of the event as well as a couple of diagrams which you can now see in the post and in the gallery below. See you in 104 years for the next transit!