Transforming remote-control Robot Truck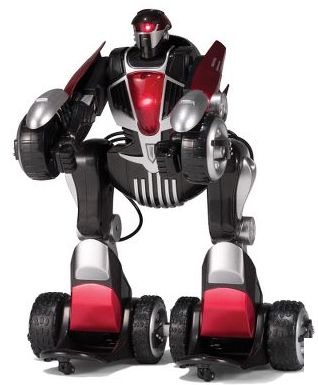 If you're a sucker for remote control toys and you've got a soft spot for Transformers, Hammacher Schlemmer's latest distraction might appeal.  Converting from a 13-inch tall two-wheeled robot to a four-wheeled sports car or truck, a straightforward RF remote controls forward and backward motion together with 360-degree spins.
A four hour charge provides enough juice for 30 minutes of play from the internal rechargeable battery, and the controller itself – which has a 100-foot range – requires just one 9v cell.  Upright mode is trigged by holding down two of the joysticks, and the robot can dance and spin while flashing LED lights.
As usual for Hammacher Schlemmer, there's no official product name or manufacturer given.  Nonetheless, I'm expecting to see this robot turn up elsewhere before the holiday shopping season kicks off in earnest.  Priced at $89.95, it's available now.
[Thanks Robert!]