Tranquil MMC-12 puts HTPC into 1.5-inch fan-free enclosure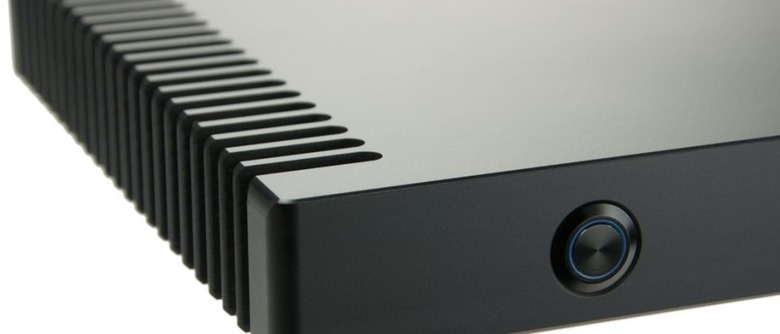 PC manufacturer Tranquil has launched its latest HTPC, the super-skinny MMC-12, a mere 1.5-inches high so as to take up minimal space in your kit rack. Fashioned in satin finish aerospace-grade aluminum, the MMC-12 is fanless and packs an Intel Core i3-2100T processor, 4GB of RAM and an 80GB mSATA OS drive, as well as a spare bay for your primary data drive and a DVD burner.
Unfortunately you don't get room for an internal TV tuner, which means you're stuck using external USB tuners if you want to play or record broadcast video. Options include a Blu-ray drive and a Core i5 processor. Tranquil is positioning the MMC-12 as a good option for network streaming and IPTV, using services like Netflix, Hulu Plus and iPlayer.
Ports, meanwhile, include two USB 2.0 and two USB 3.0, ethernet, HDMI and DVI, along with audio input/outputs.
Pricing kicks off at £649 ($1,005) for the entry-level model with a Media Center remote and a copy of Windows 7 Home Premium; you can also get the barebones chassis, with no CPU, RAM, drives or OS, for £278 ($430). If storage is a deal-breaker, there's the matching SU0 external drive unit for up to four HDDs, priced at £279 ($432).
[via PCLaunches]