Trafalgar Sun raises 4m lumen artificial star above London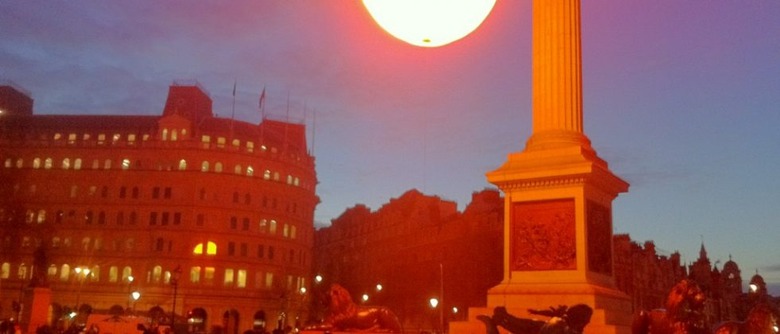 Hoisting a 4m lumen artificial sun over dreary London for a morning seems like overkill, even when you consider how many Seasonal Affective Disorder sufferers there are out there, but it certainly makes for an eye-catching promotion. Art collective Greyworld was commissioned to put together the 2,500kg fake star for juice peddlers Tropicana, a six month construction project that, for one day only, was suspended above London's Trafalgar Square to brighten an otherwise drab dawn.
The Trafalgar Sun is 30,000 times bigger than a soccer ball and has a surface area of 200 meters-square. Consisting of orange material surrounding a multi-lamp array, it produces the equivalent of 60,000 regular lightbulbs and sucks up 210,000W in the process.
In this second video, exactly how the Trafalgar Sun was made is shown. If you're looking for a more affordable way to battle SAD, check out the Philips goLITE BLUE which we reviewed last month; a whole lot smaller and dimmer, but a fair bit cheaper too.