TrackR Atlas maps your home, tracks your items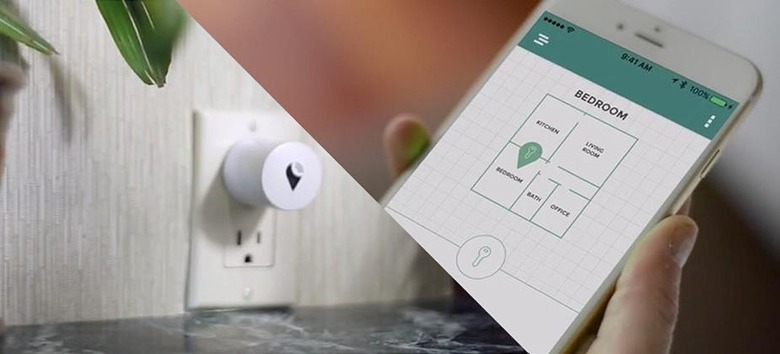 Using a set of Bluetooth tracking devices and your phone, the TrackR Atlas system keeps aims to keep your most important belongings from getting lost. This is what the Internet of Things is all about. The folks at TrackR have created Bluetooth tags in the past, but now – with the TrackR Atlas, you'll be able to keep track of a large number of items at once with a relatively simple app and a plug. TrackR Atlas plugs into your wall power socket and takes up just one space – tiny and neat.
TrackR CEO and Founder Chris Herbert makes the task of the company (and this device) simple: "We started TrackR nearly six years ago with a simple idea: what if we could pass the task of remembering where items are located to our smartphones and tablets."
"Today, TrackR Atlas brings this concept to life and advances the Bluetooth tracker category to completely automate home and office organization."
You'll plug one TrackR Atlas into each room of your house or apartment. Each TrackR Atlas device detects every Bluetooth device in its immediate area, and the whole lot report back to your phone locally, via your standard Wi-Fi router.
You'll be able to ask the app in your phone "Where are my keys?" and it'll tell you which room your keys are in. This system uses Amazon's Alexa Voice Service through the app – you'll also be able to work with an Amazon Echo device to ask the same questions.
You can also set up bluetooth-tagged items and zones to alert you when one bluetooth tag leaves one zone.
TrackR Atlas Specs:
• Size: 48mm long, 38mm diameter
• Connectivity: Bluetooth 4.0 (Bluetooth Low Energy)
• WiFi: 802.11 b/g/n
• Bluetooth range: Up to 100ft indoors
• WiFi range: Up to 200 feet indoors
• Crowd GPS range: Worldwide
• Color: High Gloss White
TrackR also works with a Crowd GPS network. If you've tagged your cat's collar, for example, and your cat leaves your yard, that cat's collar can be detected by TrackR units anywhere else in the world. If the cat's collar is detected, a signal is sent to the web and back to your device, so you can locate and eventually (hopefully) bring the cat back home.
The TrackR app is available for Android and iOS right now, and there's an Indiegogo campaign going for TrackR Atlas right this minute as well. In the Indiegogo campaign, the folks at TrackR are making the device available for $39 USD, and shipping is expected to take place in Q2 2016.