Toyota turned a HiLux pickup into a real-life Tonka Truck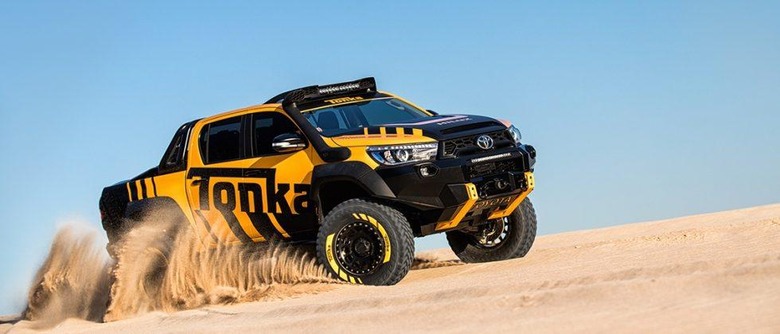 At some point growing up, most kids spent some time playing in sand or dirt with big yellow toy trucks — more thank likely those from Hasbro's Tonka Trucks line. Those with fond memories of those times are just who Toyota is looking to appeal to with its latest concept: a 2016 HiLux pickup designed to resemble a life-sized Tonka Truck. Outfitted with plenty of off-road gear, it looks just as if a kid's toy was brought to life.
This one-off concept was put together by designers at Toyota Australia, and is in part to celebrate 2017 being the 80th anniversary for Toyota and the 70th anniversary for Tonka. Toyota says their goal was to create a "full-size dream toy for adults," so they started with a standard 2016 SR5 double cab HiLux and went from there.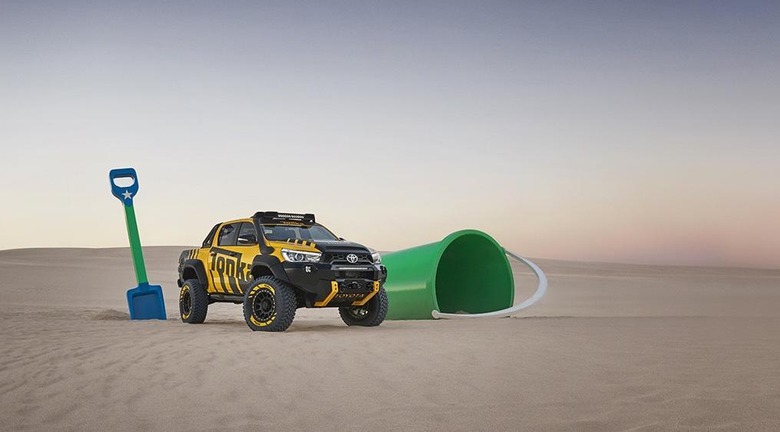 The yellow and black pickup's engine has been upgraded to a 2.8-liter four-cylinder turbo-diesel, and its ride height has been increased by 6 inches. Pairing that with a snorkel system means the HiLux Tonka can wade into some deep waters, while a heavy-duty suspension and huge 35-inch tires mean it can go off-road just about anywhere. Or at least look like it can.
There's no plans at the moment to produce and sell the HiLux concept, which is a travesty, but if you happen to live in Australia you'll get the chance to see it in person during a number of stops on a promotion tour in June. Toyota's website has the details on dates and locations.
SOURCE Toyota