Toyota TS030 race cars revealed, prove hybrids aren't boring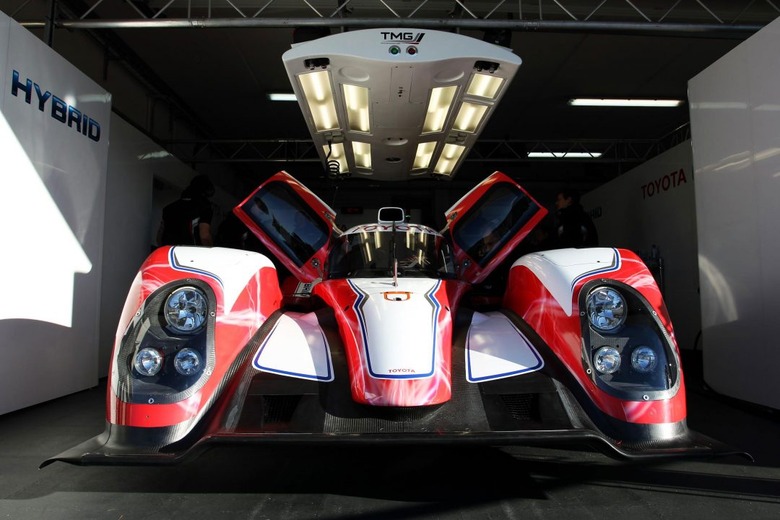 Who says automotive ingenuity is dead? Toyota is planning on making its way back to world of Le Mans and is bringing with it a pair of brand new racers. But these aren't your grandma's sportscars. They're fully decked-out and sexified hybrids. And what's even more surprising is that they'll be ready to hit the professional circuit in less than four months.
While you might readily laugh at your neighbor's Prius, this puppy from Toyota – the TS030 – can play with the big boys. It will become the first hybrid vehicle to enter the FIA World Endurance Championship. We first saw this guy earlier this month but we had little more than a couple glitzy pictures. At the time, it was classified as a prototype. Creating a hybrid vehicle that would be accepted into the Le Mans meant developing a new kind of energy system.
Even though it's still nascent technology, though, Toyota is ready to bring it out on the race track. It will only be a matter of months before the hybrid debuts on the professional circuit. Specifically, the TS030 will makes its premiere showing at the Six Hours of Spa-Francorchamps in May but Toyota is looking to Le Mans, which occurs the following month, as the spot where it can really make its mark.
Team president Yoshiaki Kinoshita said in a statement, "Of course we would love to win Le Mans; that is the dream for all competitors in this race. But we are realistic and we know we need to develop and to learn in order to compete with some very strong competition. Our target this year is to show the performance level of our car and particularly the THS-R powertrain."
[via Wired]