Toyota To Release Their Smallest Car Yet, And It's Electric!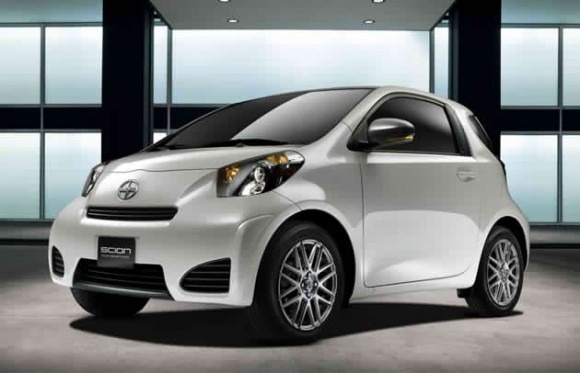 Everyone's favorite Scion-toting car company has announced that they'll be releasing their smallest vehicle ever in the USA in the Scion iQ, also the companies first electric vehicle. This car will be scheduled for 2012 and will indeed by pint-sized as it appears currently available already in Japan and in parts of Europe under the Toyota brand. This vehicle has a 1L engine and rolls out with a massively impressive 65 miles per gallon. I could get to my home town of Cloud City Minnesota and back on less than $10 bucks!
This might not be the first time you've seen this car, as Toyota introduced the idea of it last year to the North American market. This will be the first time that this 3+1 car will be electric, as revealed at this years Geneva Motor Show. This car is still undergoing testing in its electric state in the EU, the EV expected to have a range of, you guessed it, 65 miles. Will a car with such a relatively short range (considering that only gets most folks an hour away from home) be a tough sell in a country where it's not out of the question to travel 2 hours to and from work everyday?
There will be some competition for this little monster come 2012, a few of these tiny electrics on sale already. The 2011 Nissan Leaf allows you to have five people in the car and runs 100 miles on a single charge, while the 2012 Ford Focus and the 2012 "Mitsubishi i" will have similar specs and will be available starting in November of 2011. The Focus will have an electric range of 100 miles while the Mitsubishi i will have a range of 85 with seats for four.
The Scion iQ, this lovely little thing we're speaking of now, has a smaller battery than the competition, a smaller range, and quite possibly a lower price. Its generally understood that a lot of the price in electric vehicles these days comes from the lithium ion batteries they tote. With a 16kw lithium ion battery and a federal tax credit of $7,500 applied for greenness, you'll be paying $20,490 for the Mitsubishi i. With a slightly smaller battery than that in the Scion iQ electric, you can pretty much bank on a more affordable vehicle. What about you? Have you considered an electric vehicle yet?
[via Autoblog Green]