Toyota RAV4 EV rolls out for first drives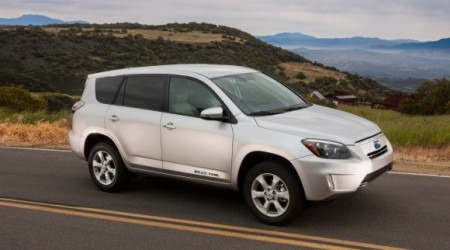 Yesterday Toyota handed the keys to its RAV4 EV over to car geeks in the media for the first time. Along with allowing the first non-Toyota folks to drive the new EV also comes a slew of new statistics and facts about the electric SUV. The RAV4 EV is completely electric powered and will arrive in select California dealerships later this summer.
Toyota notes that it expects the EV to have an EPA-estimated driving range of around 100 miles. The car takes about six hours to charge on a 240V/40A charging system. In my mind, one of the big downsides to this E and many others on the market is the sales price. The RAV4 EV costs $49,800. However, when you combine California state and federal EV purchasing incentives, the purchase price will be about $10,000 less than that MSRP. The new electric SUV uses a lot of Tesla Motors technology under the hood.
Toyota also worked hard to reduce the coefficient of drag for the RAV4 EV to help it drive as far as it can per charge. The electric version of the RAV4 has a coefficient of drag of 0.35 Cd compared to the electric version having a 0.30 Cd. Toyota claims that the electric version of the SUV has the lowest coefficient of drag for any SUV in the world. Gains were made by redesigning the front bumper, lower grill, upper grill, side mirrors, rear spoiler, and a tweaked underbody design.
The RAV4 EV is a front-wheel drive vehicle and features two driving modes for sport or normal driving. In sport mode, the SUV can reach 60 mph from a standstill in 7 seconds and has a maximum speed of 100 mph. In normal mode, the vehicle can hit 60 mph from a dead stop in 8.6 seconds and has a top speed of 85 mph. The electric powertrain has a total of 154 HP. The vehicle also has dual charging modes, including standard and extended. In standard mode, the battery pack charges up to 35 kWh and is expected to provide an EPA-estimated driving range of 92 miles. In extended mode the battery pack charges to 41.8 kWh providing an estimated driving range of 113 miles. Standard mode is intended to optimize the battery life.