Toyota RAV4 EV on sale this summer from $49,800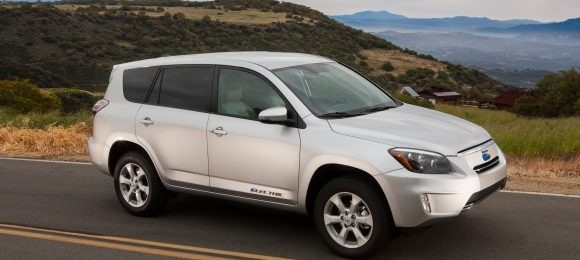 Slowly but surely we're seeing more electric cars headed to production, and for an affordable price. Toyota yesterday took the wraps off its much awaited RAV4 EV at the Electric Vehicle Symposium in Los Angeles. The electric SUV is expected to have a 100 mile range on a single charge, and will take around 6 hours to recharge with a 240V/40A adapter. Toyota say that the driving performance of the electric version will be just as good as the gas powered RAV4 V6.
The battery in the RAV4 EV is designed by Tesla, and in Sport mode can go from 0 – 60mph in 7 seconds with a top speed of 100mph. In Normal mode, the car will go from 0 – 60 in around 8.6 seconds with a maximum speed of 85mph. The output from the electric motor is said to be 154 horsepower (115kW).
As for all the creature comforts, there will be adjustable headlights, a six-way drivers seat, and "Neutron" fabric trim around the interior of the car. An 8-inch touch screen serves as the car's navigation and drive system, and settings that Toyota say are designed specifically for the RAV4 EV.
The car is expected to go on sale this summer and starts at around $49,800. As for the warranty, the battery is good for 8 years, or 100,000 miles, whichever comes first. The car will be available in certain California markets (Sacramento, San Francisco Bay Area, Los Angeles/Orange County and San Diego), and only around 2,600 are going to be produced over the next three years, so if you want in on the action, you'd better pick up the phone.