Toyota Project BLAID wearable helps the blind 'see'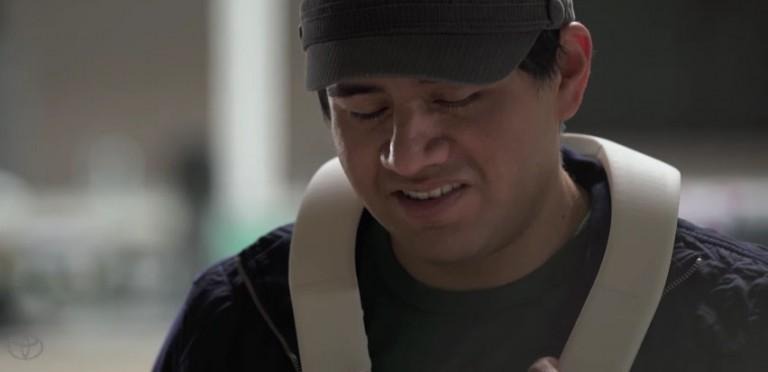 Toyota has shown off the prototype of a wearable designed specifically for the blind. Part of Project BLAID, the wearable aims to "help fill the gaps left by canes" and other aids used by the visually impaired, and does so with a compact, relatively small shoulder-mounted design. Project BLAID uses cameras, vibration motors, and more to detect the wearer's surroundings and guide them to wherever they're going.
Project BLAID, which is currently in development, is shown in rough form in the video below. Using a curved design not unlike the neckband found on some Bluetooth earbuds, the device rests behind one's neck and on each shoulder. Cameras surveil the surroundings, and motors vibrate to guide the wearer in the direction he or she needs to go.
For the user's part, they will be able to interact with the Project BLAID wearable using buttons and voice recognition — though currently in a limited prototype design, Toyota envisions the wearable one day including more sophisticated technologies, including the ability to recognize faces and identify objects. With such technologies, the wearable could tell the wearer what they are 'seeing,' proving useful in ways that seeing eye dogs can't match.
In its present form, the wearable helps individuals find common structural regions one commonly needs to visit, such as an elevator or the restroom. Over time, the project's developers will be 'teaching' the wearable to recognize more common objects and landmarks. Toyota employees are encouraged to send videos of "common indoor landmarks" to help the developers identify objects a person encounters in everyday life and add them to the wearable's knowledge bank.
Said Toyota Motor North America's Chief Administrative Officer Simon Nagata:
Project BLAID is one example of how Toyota is leading the way to the future of mobility, when getting around will be about more than just cars. We want to extend the freedom of mobility for all, no matter their circumstance, location or ability.
It's a commendable technology, and a readily available consumer version would no doubt improve the daily lives of many. Still, the ideal future is one where blindness will be cured...and many researchers are coming up with ways to make that happen. Example? Check out this implant that has successfully restored vision to several people.
SOURCE: Toyota