Toyota C-HR interior design debuts in its black and blue glory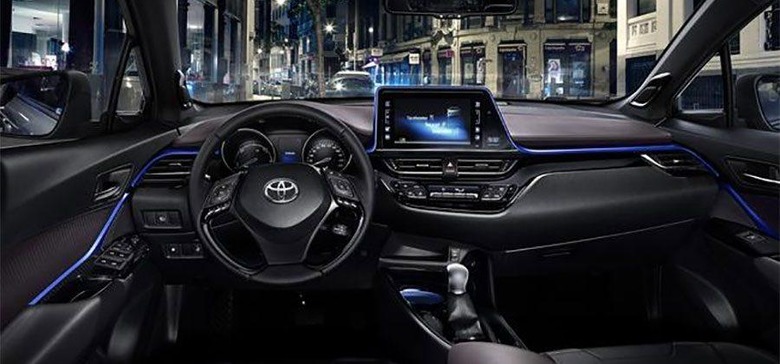 Toyota has unveiled the interior design for its new crossover called the C-HR. The C-HR is a car that Toyota designed with an eye towards more stylistic freedom and to promote engineering creativity and I have to say that Toyota certainly met that goal. This is one of the most interesting looking vehicles to come from Toyota, a brand not known for edgy design and style.
The C-HR, or Coupe High-Rider, started as a concept unveiled back in 2014 and we hoped at the time that it might come to market eventually. The idea behind the vehicle was to give a crossover with a higher ride height the lines more similar to a coupe. The vehicle has dimensions of 4360mm L x 1795mm W with a 2640mm wheelbase.
The interior of the car is mostly black leather with a blue swatch that runs across the dash. The design of the seat upholstery mimics the dash design and the overall design inside the car is very attractive. On the dash is a large 8-inch display that is touch sensitive and has a redesigned interface and uses the Toyota multi-media '16 navigation platform with enhanced connected services. That big screen is angled slightly towards the driver.
Between the seats is an asymmetrical center console designed to put everything within easy reach of the driver, but still in reaching distance for the passenger. The upper dashboard area was designed to be lower in-depth to enhance driver visibility. The interior uses three main finishes with leather-like for background surfaces, Nappa grain for all surfaces that are touched, and a technical grain for switchgear. The interior will come in three-color schemes with dark grey, black/blue, and black/brown. The C-HR powertrain options include a hybrid system and a 1.2L turbo engine with a 6-speed manual as an option for some markets.