Toy Car Rams Ahead at 18mph, Audi Auto Union Type X e-tron Makes it Longest Car Title Ever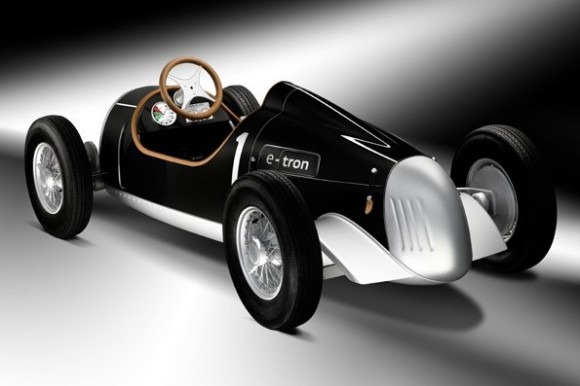 Take a peek this magnificent machine. It's all black with tan interiors, no top, a big fat "1" on the side, and wheels that'll last you just so long as you don't go offroad at all, whatsoever. What the heck is this thing? It's the Audi Auto Union Type C e-tron study, of course. It's got electric drive, a smooth sailing body, and plans on being released into the wild at the International Toy Fair this early February, just so long as it gets its wish.
It's got an electric motor that makes its rear wheels speed, charged by lithium-ion batteries, has an output of 1.5 horse power, and cruises at 18.64 mph. Is this your grandmother's tricked out buggy? Nay, man, no way. This little master of the road that only goes 15 miles tops before it has to be recharged is a toy to be desired. And we desire it. Don't know where we'd put it though. Maybe in the shed? Maybe in candy apple red, too.
Check out the full press release below:
A small-scale e-tron study: Audi at the International Toy Fair in Nuremberg

Prototype with electric drive travels at up to 30 km/h (18.64 mph)

Audi's second appearance in Nuremberg

From racing bodysuit to exclusive soccer table from Audi design

AUDI AG will be showing a selection of its products again at the 62nd International Toy Fair in Nuremberg. Last year Audi became the first car manufacturer ever to present a selection of model cars and new products from the Audi children's world to visitors on its own stand in Nuremberg. The highlight in 2011 will be the "Auto Union Type C e-tron study" with electric drive. The International Toy Fair will take place from February 3 to 8.

Audi will be continuing the subject of electric mobility in a fun way at the Nuremberg fair: The brand with the four rings is presenting a unique specimen, which is as innovative as it is exclusive, on its 75 square meter (807.29 square feet) stand – the Auto Union Type C e-tron study. This is based on the limited-edition pedal car model which is sold through quattro GmbH, a subsidiary of AUDI AG. The body of the hand-finished unique specimen is made of aluminum and carbon-look material and is suitable for children and adults of up to 1.80 meters (5'11") in height. The 1:2 scale study is 2.32 meters (7.61 feet) long and 97 centimeters (38.19 inches) wide.

The electric motor drives the rear wheels, is charged by a lithium-ion battery and, with an output of 1.5 hp, reaches a torque of 40 Nm (29.50 lb-ft) – and briefly as much as 60 Nm (44.25 lb-ft). This enables the car to reach a top speed of 30 km/h (18.64 mph). The study is also equipped with a reverse gear.

Depending on how it is driven, the little Audi e-tron has a range of around 25 kilometers (15.53 miles). It can then be charged at a standard 230 volt household socket. Depending on the battery charge status, this takes about two hours.

The exclusive soccer table from Audi design will also be making an appearance in Nuremberg. Alongside its emotive styling, this toy is also noted for its Vorsprung durch Technik. Its materials, finish and technical workmanship satisfy the highest standards. Aluminum and high-strength plastic are added to the wooden core by hand. The table, incidentally, is absolutely suitable for professional tournament use. Its combination of functionality and design is unique in table soccer. Only 20 tables will be built initially, with each small-series soccer table costing €12,900.

quattro GmbH is showing prototypes of a rather different kind in the area of baby and children's products: The racing bodysuit, the power/brake socks, the pit stop baby bottle and the mini sound absorber kit (pacifier) were all inspired by the world of motorsport. Audi is also showing a study of the successor model to the current "Audi Junior quattro" ride-on toy car in Nuremberg.

Audi will of course also be presenting its high-quality range of classic car-related toys: remote-controlled models, plush cars and the Audi motorsport bear. The Wörthersee models of the Audi A1 to a scale of 1:87, among others, will be displayed in the model car paternoster.

Industry professionals, journalists, commercial resellers and large-volume buyers can view the world of toys offered by Audi by visiting the exhibit stand. Through its presence at the fair in Nuremberg, Audi is looking to draw attention to the wide range of toys offered in its portfolio. The International Toy Fair in Nuremberg is one of the world's leading professional exhibitions for toys and leisure products. About 2,600 exhibitors will display their wares from February 3 to 8.