Tough Pelican Case Is Your Notebook's Bodyguard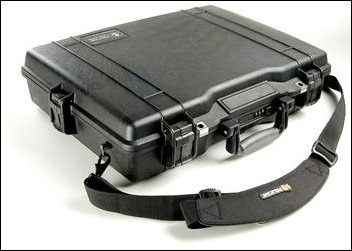 When Vincent tested the OtterBox Rugged Laptop Case back in August, he ran it over with his Toyota 4Runner just to make sure it was up to the honoured task of protecting his MacBook.  I wonder if Pelican will let him do the same with their 1495 Laptop Case, which they're claiming is water proof, crush proof, dust and chemical resistant.  Securing with a combination lock, as well as sporting stainless-steel-clad padlock hoops if you're extra anal about safety, it will take up to a 17-inch notebook and a whole bunch of cables, media and the other gumph we insist on carrying around with us.
What do you think, guys, fancy sending SlashGear a 1495 and letting Vincent test it out in his own indomitable way?  The Pelican 1495 range starts at $119.46 and is available from Shipping Cases Now.
Press Release [via Laptoping]