TouchPico thinks you need Android on a tiny projector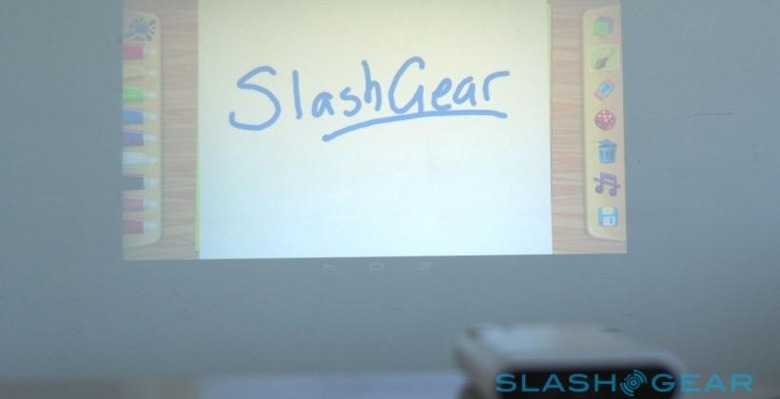 Remember pico-projectors? Startup TouchPico wants to bring them back with Android installed, and it has a clever digital pen system that it's hoping will persuade the crowdfunding community to invest. We caught up with the prototype to see how it all works.
According to TouchPico, the goal is social collaboration. That could be an impromptu presentation, or it might be playing casual games projected onto your living room wall: anything, the company says, to bring the attention back up from staring at a 5-inch smartphone screen.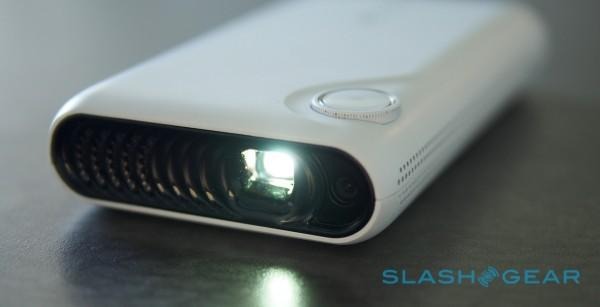 So, TouchPico takes a regular 854 x 480 pico-projector – capable of projecting up to an 80-inch image – and loads Android 4.2 on it. It's a stock build of Google's OS, though you don't get official Google Play access or any of the apps like Gmail or Google Maps (the company hopes to have the production model qualified by Google, though the initial developer version hitting Indiegogo will need to have its apps side loaded).
Right alongside the projector lens is what makes TouchPico special: an infrared camera. That tracks the tip of a special stylus, and allows you to draw or tap on the wall and interact with Android. Tap points are automatically converted into their touch equivalents by TouchPico's system, meaning regular Android apps don't need modification in order to work.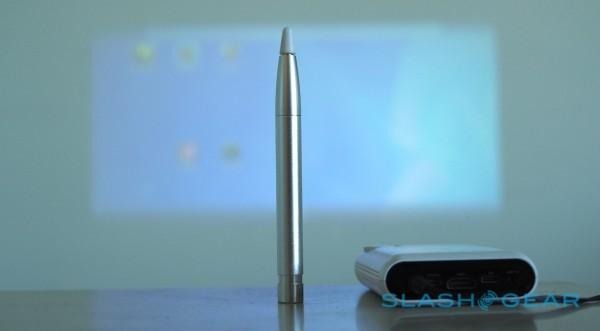 On top of that there's an auto-calibration system which, once you've set it up the first time, can keep the touch and projection layers synchronized even if you move the projector closer or further away from the wall. It'll even keep working if the projection is at an angle.
In practice, it works fairly well, though "drawing" on the wall takes a little getting used to. You have to be sure to keep your hands and arms out of the way of the projection, since otherwise the camera can't track properly, meaning holding the stylus at the end rather than as you might normally grip a pen is better.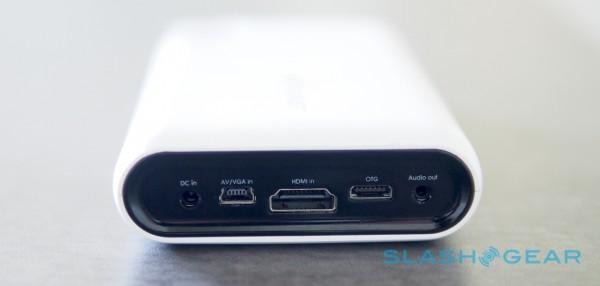 So far so good, but there are a few factors which keep TouchPico as a niche product. The specifications are relatively mid-tier, with an unnamed dual-core processor running Android, while connectivity includes WiFi, a microSD socket, HDMI input, AV input, USB OTG port, and an audio output. Unfortunately there's no Bluetooth, so you couldn't connect up a wireless keyboard and use TouchPico as an impromptu desktop alternative.
Instead, you can slave the projector to a nearby smartphone using WiFi Direct and show content that way, though the 45 minute battery life means you'll run out of steam long before a movie is through. It should be sufficient for a presentation and maybe a few games of Angry Birds, however.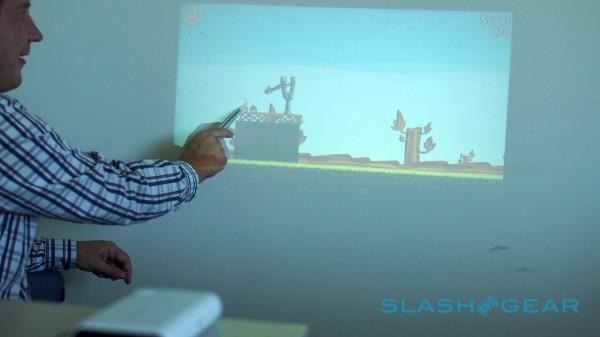 At 150 lumens it's not the brightest projector we've seen, and you do need to have a fairly dim room in order to get the best picture quality. TouchPico has plans for larger versions that would be more powerful, though of course they'd not be as pocket-friendly.
You could well argue that TouchPico is the perfect candidate for crowdsourcing at its purest: a product that's probably too niche for any of the major companies to consider, but which will try its luck at seeing whether there are enough intrigued individual buyers to help it raise the $55,000 it's looking for. Assuming that happens, it's expected to ship from October.
SOURCE TouchPico