TouchPad Go 7-Inch Tablet Hits FCC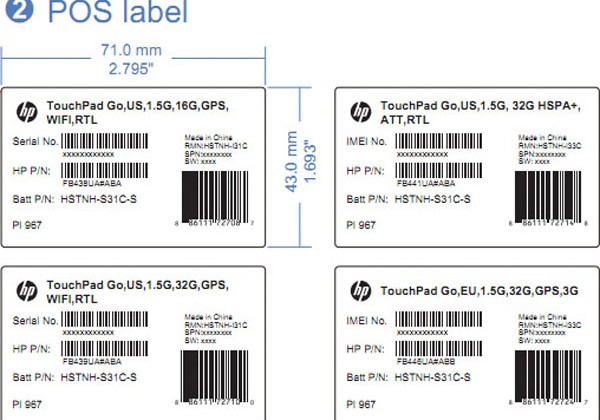 Apparently, there have been some rumors floating around that a new HP TouchPad packing 4G has hit the FCC. That isn't the case though accordion to some sources. Buried inside the FCC documents for the new HP tablet that has hit the FCC are some labels that clearly show what hit the FCC is in fact the HP TouchPad Go with a 7-inch screen we have talked about before. Last we spoke about the mysterious 7-inch HP tablet the thing was expected to launch this month.
There is also a rumor that the TouchPad Go that is on the labels above may be the device codenamed Opal that was on the WebOS roadmap that leaked back in July. There are four labels that surfaced at the FCC. The labels show four models, with three that are bound for the US. One shows a basic tablet with 16GB of storage, GPS, and WiFi. The other shows the same tablet with 32GB of storage and HSPA+ support on AT&T.
The third label is a 32GB version with GPS and the fourth tablet is not for the US. As odd as it is to find a label for a European version in a FCC document, that is exactly what the fourth one is. The label you can see in the photo above in the bottom right corner. It shows a tablet bound for Europe with 32GB of storage and 3G support.
[via Thisismynext]