Touchjet WAVE turns any TV into an Android Surface Hub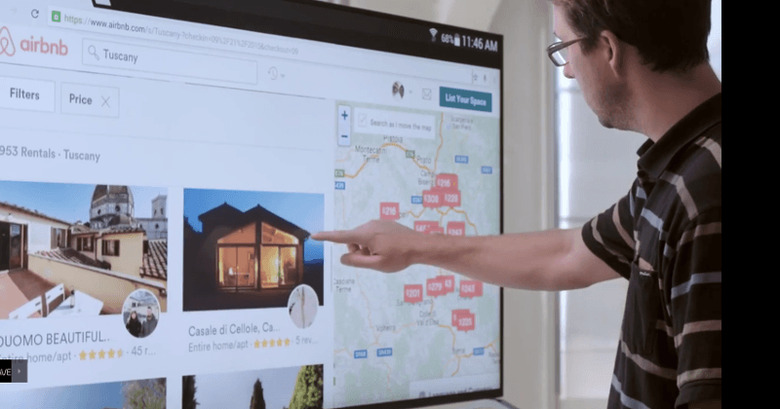 We already have smart TVs, even those that run Android, but interacting with them still isn't something that has settled into a standard. You've got remote controls, gamepads, and even keyboard and mouse. So why not throw in two more ways? Like touch and a stylus. If that sounds almost familiar, then you've probably heard of Microsoft's Surface Hub. The Touchjet WAVE can do that too but at a fraction of the price and with the more open and more flexible Android. That is, if the crowdfunding campaign gets off the ground.
What makes Touchjet WAVE so tempting is that you don't need an expensive specialized TV or computer. All you will need is a attachment that sits on top of any HDMI-enabled TV. That attachment, which is the WAVE itself, houses both the infrared sensors as well as the Android-powered computer that drives everything. The WAVE connects to the TV's HDMI port for output while using hands or an infrared stylus for input. Admittedly, it's an ingenious way of combining existing technologies and ideas into a consumer-friendly package that anyone can setup and use.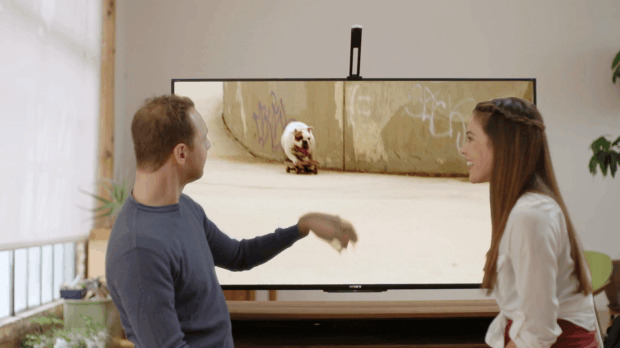 The WAVE's hardware specs resembles that of an Android TV box, unsurprisingly. There's a 2.0 GHz quad-core CPU, 1 GB of RAM, and 8 GB of memory. Sadly, it runs only Android 4.4 with a custom Touchjet UI. That said, it's your typical Android, however, so you're not limited to the apps that you can install and use. So you can play Fruit Ninja with your fingers, deliver reports, or watch your favorite streaming videos on any TV, even if they aren't smart themselves. There is also a Touchjet app that will repurpose your smartphone into a remote control for the WAVE. It also lets you simply flick photos to show on the TV.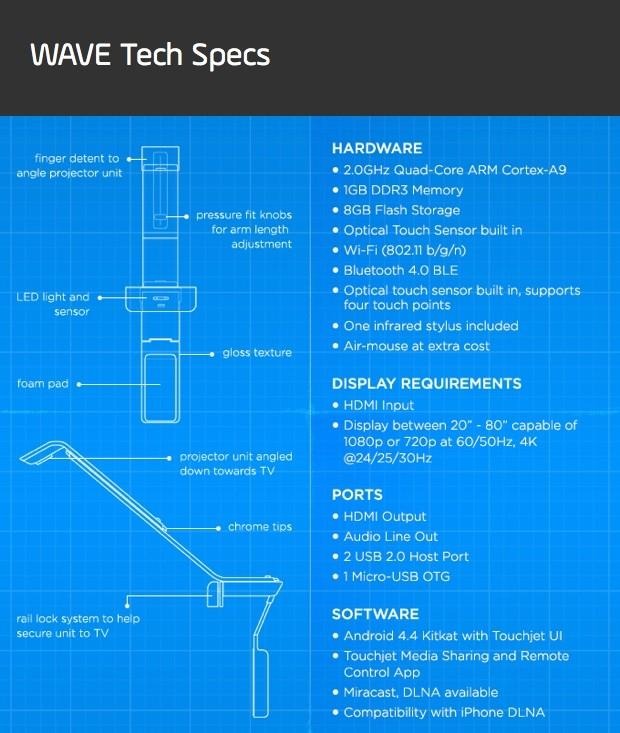 As great as that may all sound, the Touchjet WAVE isn't a finished product. It's still in the process of raising $100,000 on Indiegogo, though it's more than half way to that goal with 30 days to spare. Of course, reaching the funding goal is not an assurance of success. But for $99 or $119, that might still be a tempting idea.
SOURCE: Indiegogo