Toshiba's latest gaming behemoth gets once-over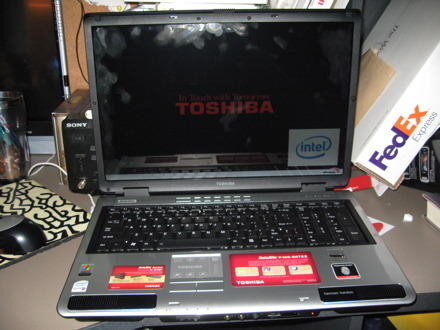 Given that I do the majority of my writing for SlashGear on an HP tc1100 with a 10.4-inch screen, the idea of having 17-inches of portable TFT in front of me is both exhilarating and frightening.  But that's just what's on offer with the Toshiba Satellite P105-S97722 Notebook, a machine whose length in name is only exceeded by the length of time you'll spend playing games on it.  It's some powerhouse, too: a 2GHZ Intel Centrino Core 2 Duo CPU, 2GB of PC5300 DDR2 RAM, GeForce Go 7900 256MB graphics and a 200GB SATA hard drive, all adding up to one hell of a machine.
CrunchGear's Vince Veneziani did the necessary weights training to pick up the 7.1lb monster, wincing more at the $1999 price-tag than anything else, and put it through its paces.  His opinion?  Well, I don't want to spoil their review but I think it's fair to say that if you're not an avid gamer and aren't in need of multi-tasking until the cows come home, then you might be better off with a different computer!
Toshiba Satellite P105-S97722 Gaming Notebook Hands-On [CrunchGear]