Toshiba TG01 Windows Mobile 6.5 upgrade confirmed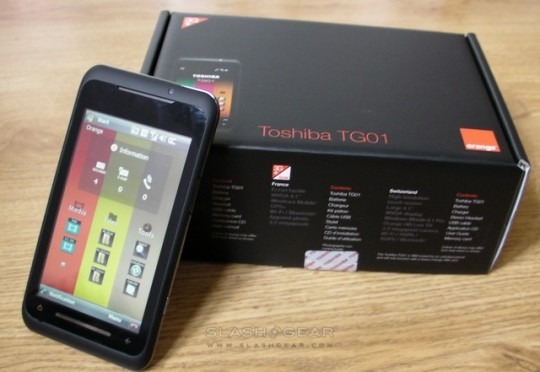 Back when we reviewed the Toshiba TG01 in July, we concluded that Windows Mobile 6.5 might turn the Snapdragon-based smartphone into a more attractive device.  Now, with the new OS official, Toshiba have confirmed that existing TG01 owners will be able to download the WM6.5 update from their site.
The new OS wasn't available to download at time of writing, but we're assuming it will be added soon.  Our guess is that the upgrade process would be a relatively straightforward matter of plugging the TG01 into a Windows-based PC with the included USB cable, though since we've actually got a Toshiba review unit on-hand (and still running 6.1) we'll be trying it out ourselves to see just how easy it is and what sort of difference it makes.
As for new purchases of the TG01, the handset will be preloaded with Windows Mobile 6.5 from now on, so fresh owners won't have to worry about upgrades.  The smartphone is available from free in the UK, on carrier Orange.
Press Release:
Toshiba TG01 Windows phone made available in co-ordination with release of Windows MobileR 6.5 operating system

London, UK, 6th October 2009 – To coincide with the release of Windows Mobile® 6.5, Toshiba Information Systems (UK) Ltd, Mobile Communications Division, today announces the retail availability of the TG01 Windows® phone, a variant of its innovative TG01 featuring the new Windows Mobile® 6.5 operating system.

The arrival of Windows Mobile® 6.5 and Toshiba's immediate adoption of the platform for the TG01 sees the handset become a fully-certified Windows® phone; the updated TG01 Windows® phone is available in stores across Europe from today. Toshiba customers who have previously purchased the TG01 will also be entitled to an upgrade to the new Windows Mobile® 6.5, free of charge.

The launch of the TG01 Windows® phone means users will be able to enjoy all the benefits of Windows Mobile® 6.5, including a new Home screen and a finger-friendly start menu. Designed to offer fun and interactive navigation between applications, Windows Mobile® 6.5 provides users with faster access to the handset's plethora of features.

An update to the new Windows Mobile® 6.5 operating system for existing owners of TG01 is available for download from Toshiba's website: www.toshiba-europe.com/mobile