Toshiba TG01 Gets Video Review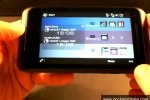 The Toshiba TG01 isn't set to reach the market until the summer, but that hasn't stopped PocketPCItalia from getting their hands on the 9.9mm-thick Windows Mobile smartphone and putting it through its paces on video.  The TG01 has a huge 4.1-inch 800 x 480 touchscreen and custom Toshiba GUI; it looks like the company has been doing some work on speeding up the smartphone since we caught it on video back at the London launch.
Video review after the cut
We already know that the TG01 is only the vanguard of Toshiba's upcoming smartphone invasion; details and images of the TG02 and TG03 have already leaked.  Like the TG01, they use Qualcomm's 1GHz Snapdragon chipset which is tailored to mobile gaming and media playback.
The device in the video is still a prototype, but still passes muster.  The display doesn't fail to impress, and the touchscreen looks reasonably responsive despite not being capacitive. 
Toshiba TG01 video review:
Toshiba TG01 typing demo:
[via SmartphoneDaily]