Toshiba Satellite T130/T135 and T110/T115 CULV ultraportables debut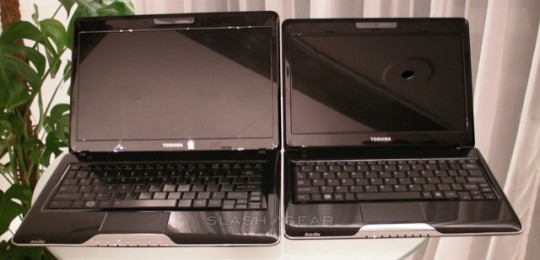 Toshiba have announced two new CULV notebooks in their Satellite ranges, which will go on sale as the Satellite T135 (13.3-inch) and Satellite T115 (11.6-inch) in the US and as the T130 and T110 in the UK.  Both machines use Intel Pentium, Celeron single core or – in the case of the T13x – Celeron dual-core CPUs, with the smaller machines having up to 3GB of DDR3 RAM and 250GB hard-drives while the larger models get up to 4GB of RAM and up to 500GB hard-drives.
Live gallery after the cut
Both models have WiFi b/g/n and Bluetooth 2.1 as standard, together with a webcam with facial recognition, three USB 2.0 ports, HDMI and support for sleep-and-charge.  The T110/T115 weighs 1.58kg while the T130/T135 weighs 1.76kg.
SlashGear had a chance to play with the new Windows 7 machines, and came away reasonably impressed.  Build quality seems decent, and the keyboards show little flex and are well spaced, even on the smaller model.  The displays are very glossy, however, and there was some slight lag on the Celeron single-core models Toshiba was showing.  Battery life is tipped at up to 11hrs from the standard pack, which exceeds even Toshiba's own netbook range, though it does mean the base of the notebooks are not flush-fitting.
The Toshiba Satellite T130 and T110 will go on sale after October 22nd, priced from £429 in the UK.  Meanwhile the same units, as the T135 and T115 respectively, will go on sale in the US at the same time, priced from $599 for the T135 and $449 for the T115.
Press Release:
Toshiba introduces stylish Intel® CULV energy efficient laptops with the Satellite T130 & T110

London, UK, 29th September 2009 – Toshiba UK today announced the Satellite T110 and T130 – the first Toshiba laptops to feature Intel® CULV (Consumer Ultra Low Voltage) processors, designed to offer the performance and functionality of full-sized laptops with portability and a battery life of up to eleven hours.

The Satellite T-series is the perfect balance of thin and light eye-catching design, portability, extensive connectivity and stunning battery performance, at an affordable price point. Consumers have a choice of sizes and colour options – the T130 is available with a 13.3" screen, whilst the smaller T110 offers an 11.6" alternative. The T130 will be available in the Satellite Pro range for business users.

Elegant design

Only 22.2mm at its thinnest point and a mere 1.58kg in weight1, the slender, tapered chassis of the Satellite T-series offers a stunning mobile computing experience. The range features an elegant, subtle pattern design – available in a choice of Precious Black, Iron Red Metallic and Luxe White Pearl (model dependent) – that continues inside the laptop, around the keyboard, screen and display.

Satellite T130 and T110 laptops add brand new CULV product category to the Satellite and Satellite Pro (T130) ranges

Energy efficient processors offer powerful performance with a battery life of up to eleven hours

Compact 13.3" or 11.6" screens combine with impressively thin and light design for ultraportability

1 1.58kg weight refers to the Satellite T110.

Portability without compromise

While both the Satellite T110 and T130 boast a thin, compact design, they also deliver a powerful performance thanks to the Intel® CULV processors. The Satellite T130 is available with the choice of Intel® Pentium®, Intel® Single Core or Intel® Celeron Single Core ultra low voltage processors, and the Satellite T110 has the option of either an Intel® Pentium® or Intel® Celeron Single CoreTM ultra low voltage processor.

The ultra low voltage CPU allows for a much longer average running time between charges whilst still providing the processing power necessary for resource intensive tasks such as word processing or image editing, with consumers able to enjoy up to eleven hours use on a single charge. Up to 4GB DDR3 (800MHz) of RAM and up to 500GB of hard disk drive space allow consumers the flexibility to keep their important files with them and run several programs simultaneously.

Mobile working on the Satellite T130 and T110 is made even easier by the inclusion of an LED backlit 16:9 widescreen featuring a resolution of 1366 x 768, at screen sizes of 13.3" and 11.6" respectively. Meanwhile, both models feature Toshiba's 3D sensor for HDD protection, which detects free falls, shock or vibration and locks down the hard drive to prevent the loss of valuable data.

Comprehensive features

The Satellite T-series also features Toshiba's innovative gesture support. A multi-touch control pad enables users to pinch, zoom, swipe and rotate objects simply by moving their fingers. An integrated webcam makes video conferencing and web chats simple, and with Toshiba's Face Recognition technology, it is possible to access files by simply looking into the camera – no need for passwords.

Users can also further maximise the efficiency of their laptop by adjusting the power settings with Toshiba's Eco-Utility tool – a software application, developed by Toshiba, which allows users to monitor how much energy their laptop is using and reduce the energy consumption by up to 25% in idle mode. The power saving Eco Utility Tool demonstrates the efficiency offered by Eco Utility in direct comparison to the standard power mode.

The Satellite T110 and T130 laptops offer a wide range of connectivity options including integrated Wi-Fi 802.11 b/g/n and Bluetooth 2.1 connectivity. Furthermore, all Satellite T- series laptops provide three USB 2.0 ports with Toshiba's Sleep-and-Charge technology allowing multiple devices to charge even when the laptop is switched off. An HDMI port on all versions also allows users to connect to high definition television sets.

Available from late October, TPPs starting from £429.

Satellite T110

Intel® Pentium® or Intel® Celeron Single CoreTM ultra low voltage processor Up to 3GB (DDR3) 250GB HDD 11.6" LED Backlit 1366 x 768 Screen

Integrated Wi-Fi 802.11b/g/n Integrated Web Camera with Face Recognition 3 x USB 2.0 Sleep and Charge, 1 x HDMI 1.58kg Available in Precious Black or Iron Red Metallic

Satellite T130

Intel® Pentium®, Intel® Single Core or Intel® Celeron Single Core ultra-low-voltage processor Up to 4GB (DDR3) Up to 500GB HDD

13.3" LED Backlit 1366 x 768 Screen Integrated Wi-Fi 802.11b/g/n Integrated Web Camera with Face Recognition 3 x USB 2.0 Sleep & Charge, 1 x HDMI

1.76kg Available in Precious Black, Iron Red Metallic or Luxe White Pearl

Satellite Pro T130

Intel® Celeron Single CoreTM or Intel Core 2 Duo ultra-low-voltage processor Up to 4GB (DDR3) Up to 320GB HDD 13.3" LED Backlit 1366 x 768 Screen

Integrated Wi-Fi 802.11b/g/n Integrated Web Camera with Face Recognition 3 x USB 2.0 Sleep & Charge, 1 x HDMI 1.76kg Available in Precious Black