Toshiba Satellite Radius 11: converting the low end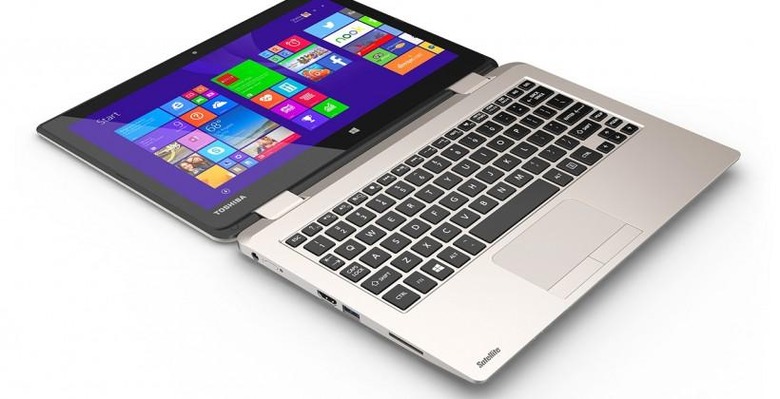 To the naked eye, the Toshiba Satellite Radius 11 might look like any other new converting notebook/tablet device here in the age of touchscreen-friendly Windows 8.1. At $329.99 MSRP, though, there's something to be said about Toshiba's ability to keep their cost/value ration high. Under an 11.6-inch touchscreen display you'll find a 360-degree two-axis and "flip-and-fold" hinge design for the next generation of converters. Laptop, Tablet, Tabletop, Presentation, and Audience modes are all included in the mix with this silently-interesting device from Toshiba, coming your way very, very soon.
This device comes in at three pounds light and works with an Intel Pentium or Celeron processor under the hood. With 4GB of RAM and either a 500GB hard drive or 32GB of Flash memory you'll also be rolling with a completely fanless design.
Up top you've got a "trendy patterned light gold finish" while above the display you'll have an HD webcam. Along the left and the right you'll have 1x USB 3.0, 1x USB 2.0, a full-size HDMI-out, and an SD card slot to work with.
Above you'll see several images of this notebook. While this is just one build, every release of this notebook will look essentially the same.
The Satellite Radius 11 is one of two devices with nearly the same name. The first Satellite Radius was launched by Toshiba in May of 2014 with a 15.6-inch display and similar functionality. The Satellite Radius 11 will be made available on the 26th of October, 2014.