Toshiba reveal netbook plans with 5.6-inch touchscreen prototype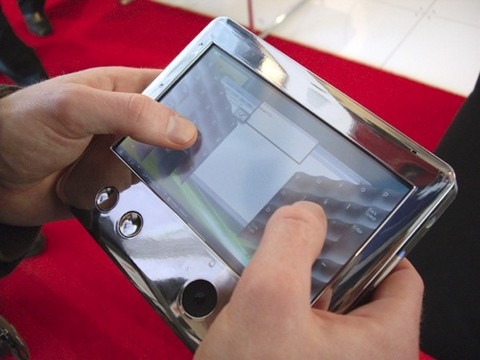 Toshiba have decided to step into the budget netbook arena with a device of their own, although the company is at pains to point out that their device may not be a direct competitor to the ASUS Eee.  Their prototype – which appears to have been squeezed into a casing we first saw back at CES 2008 – uses a 5.6-inch touchscreen interface and an on-screen keyboard, and runs an Intel Atom processor and Windows Vista.
Storage is courtesy of a 64GB SSD, while the motherboard is apparently half the size of that found in the Portégé R500.  It also has GPS.  PC Authority report that it runs "relatively smoothly", although usability was impacted by the lack of hardware keyboard: "it was a bit awkward with the virtual keyboard taking up two-thirds of the screen".
Bizarrely, however, Toshiba are saying that the prototype is "too small" to be commercially viable, and that it's purpose is merely to "spur development ideas".  The eventual machine, which the company has confirmed is coming, could have a 9-inch display, but there are "six or seven" other potential niches they are considering.