Toshiba Portégé M780 tablet twists into show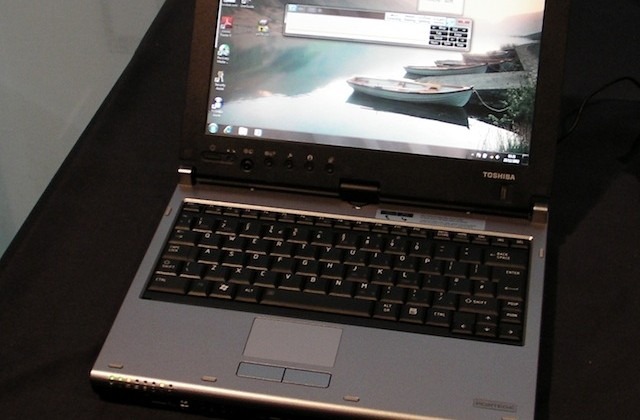 Toshiba have unveiled the new Portégé M780 convertible tablet PC, the replacement to the Portégé M750.  Based around a twisting 12.1-inch dual-mode touchscreen, the M780 has an Intel Core i3 processor, 2GB of DDR3 memory and a 250GB hard-drive; the display can be used either with fingertips or with a special active stylus for more precise control.
Elsewhere there's WiFi b/g/n, Bluetooth 2.1+EDR, three USB 2.0 ports (one of which is a USB/eSATA combo) and a 5-in-1 memory card reader, together with gigabit ethernet, a 1.3-megapixel webcam and a battery good for up to 5.5hrs runtime.  Toshiba have clad the M780 in a magnesium alloy chassis, and they reckon it's capable of surviving a 70cm drop without sustaining damage.
When we grabbed some hands-on time with the tablet PC, it certainly felt reasonably responsive, with the touchscreen reacting quickly and even capable of handwriting recognition when using your finger rather than the stylus.  Toshiba's screen locking system – which has a central hinge but also two side-clips that add support – feels reassuringly sturdy, too.  The Toshiba Portégé M780 is set to hit shelves from late April 2010; Toshiba are yet to confirm pricing for the new notebook.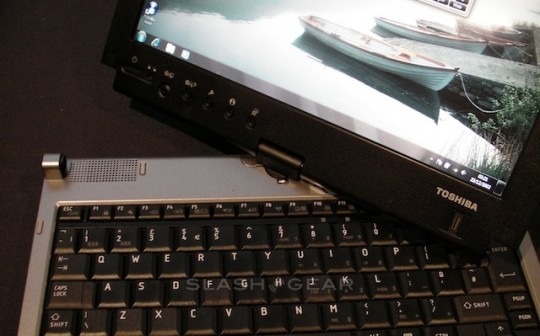 Press Release:
Toshiba introduces interactive and durable tablet PC to market-leading Portégé range

London, UK, 16th April 2010 – Toshiba UK today announces the launch of the new Portégé M780 – its latest tablet PC aimed at mobile business users and the education sector.

Featuring a 30.7 cm (12.1") touch-screen display, the Portégé M780 is built for versatility. Toshiba"s twist-screen technology allows users to employ the laptop in either the traditional "clamshell" form, or, by simply rotating the screen, as a powerful tablet PC. The display perfectly complements the touch capabilties of Windows 7, enabling users to write and sketch directly onto the screen using their fingertips or the accompnying electromagnetic stylus for enhanced accuracy. This functionality makes the laptop an attractive option for schools and universities, who will benefit from its interactive capabilities.

Combining a lightweight magnesium alloy chassis and up to five-and-a-half hours of battery life, the Portégé M780 is also suited to field-based employees, sales staff and creative professionals across small, medium and large businesses. A 1.3MP web camera and integrated microphone make it easy to stay in touch with colleagues, providing the capacity to hold video conferences over the internet.

New Portégé M780 tablet PC replaces the Portégé M750

Touch-screen display enables users to write with their fingertips or a digital stylus

Latest Toshiba EasyGuard features and connectivity options make the Portégé M780 an ideal mobile working tool

Powerful, versatile computing

Featuring the latest Intel® CoreTM i3 processor, the Portégé M780 offers powerful performance for a range of demanding business tasks. Intel® Hyper Threading technology and 2GB of DDR3 RAM maximises performance, enabling users to work on multiple documents and tasks simultaneously. A Hard Disk Drive (HDD) of 250GB provides the capacity to store thousands of documents and presentations.

The day-to-day management of office documents and files is greatly facilitated by Toshiba LifeSpace: an easy-to-use software application which features an intuitive "Bulletin Board" that allows users to create a virtual pin-board for quickly accessing favourite files, or posting notes, reminders or links. Another function within LifeSpace, "ReelTime", accelerates file searching by automatically creating a pictorial timeline of recently-used documents or folders – vastly reducing the amount of time spent searching for files.

Protected and connected computing

Perfect for users on the move, the Portégé M780 features Toshiba"s EasyGuard technology, providing advanced protection against the wear and tear of mobile working. An integrated 3D impact sensor protects the hard drive from sudden movements, shocks and vibrations – protecting all files and data. Air pocket cushioning and padding also protect the chassis and LCD monitor, enabling the tablet PC to withstand drops from up to 70cm1. A spill-resistant keyboard gives users three minutes to save any valuable data before the machine automatically shuts down, ensuring that unsaved work isn"t lost as a result of accidental spillages2.

The Portégé M780"s comprehensive connectivity features increase productivity for mobile workers, with Toshiba ConfigFree providing quick and easy wireless network connections. Gigabit Ethernet offers increased bandwidth for high-speed connectivity to business networks, while further connectivity options, including integrated wireless LAN, Bluetooth 2.1 with EDR, and three USB ports, come as standard. Easy integrated docking also provides an efficient way to connect to a range of peripheral devices simultaneously, and allows users to reconnect to all devices instantly if they have been working away from their desk.

1 The Portégé M780 is submitted to Highly Accelerated Life Tests (HALT) carried out by the independent German test institute TÜV. HALT (Highly Accelerated Life Test) is a combination of extended stress tests including e.g. temperature variations, resistance to shocks, repetitive vibration, pressure tests for displays

2 Spill-resistant keyboards help protect your data from accidental spills of up to 30 ml, allowing you 3 minutes shut down time to save your data

Product Specifications

30.7cm (12.1") touch-screen display with pen and touch input

Intel® CoreTM i3 processor

Wireless connectivity: WLAN (802.11 b/g/n), Bluetooth 2.1 + EDR

Interfaces: 3 x USB Ports ( 1 x USB/eSATA combo), 5 in 1 media reader

250 GB HDD with 3D impact sensor for HDD protection

2 GB DDR3 (1066 MHz)

Gigabit Ethernet

1.3MP Web Cam

OS: Windows 7 Professional Eco Utility software

Weight: 2.0 kg

Magnesium alloy chassis

Up to 5.5 hours battery life

The Portégé M780 is available from late April.