Toshiba Portege M750-S7202 Tablet PC reviewed: great touchscreen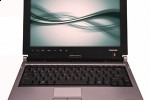 As touch-enabled computers continue to drift more and more into the consumer realm, you could be forgiven for thinking that the Tablet PC as a niche is dead.  Toshiba certainly feel differently, however, and their Portégé M750-S7202 – a 12.1-inch Centrino 2 convertible, announced in October 2008 - comes across all business.  Computer Shopper put the bulky, soberly-designed, but nonetheless surprisingly usable laptop through its paces.
Negatives are price and size, with the M750's convertible hinge adding bulk and weight to the notebook.  The upside to that is stability, with no qualms about the hinge failing, and Toshiba have thrown in extra knock, drop and spill protection with a magnesium alloy shell, shock-absorbing chassis, hard-drive mount and LCD panel mount, spill-resistant keyboard and 3D accelerometer to park the 160GB 7,200rpm drive heads in the case of a fall.  The M750 also has a dual-mode digitizer, capable of responding not only to the traditional active stylus but also finger-touch input; that means the best of both worlds, and with only minimal reduction in picture quality from the digitizer layer itself.
Performance from the 2.4GHz Intel Core 2 Duo P8600 CPU and 2GB of RAM was reasonable, though this isn't the machine for 3D gamers, but the biggest stumbling block for the Tablet will be the non-touchscreen Portégé A605, which is $400 less and skinnier to boot.  The Toshiba Portégé M750-S7202 is available to order now, priced from $1,799. 
[via TabletPCTalk]