Toshiba Portégé A605 12.1-Inch Ultraportable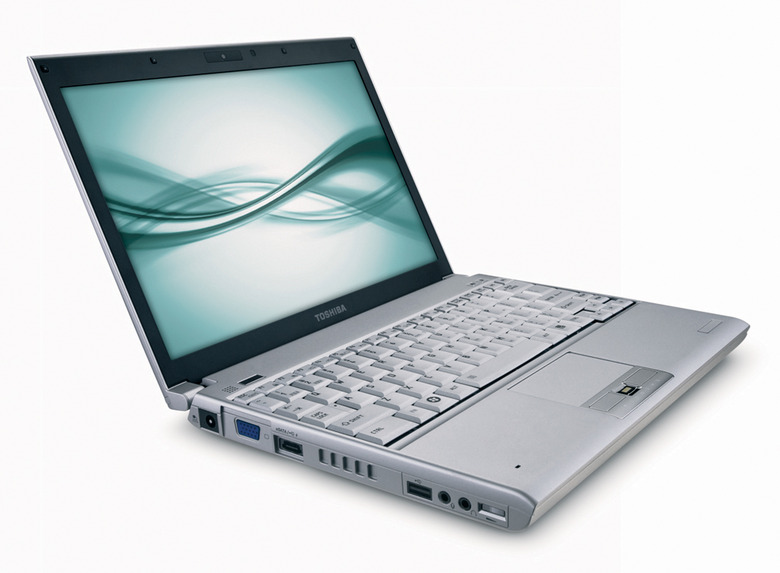 Toshiba have announced the Portégé A605, a 12.1-inch ultraportable measuring 1.18-inches thick and weighing from 3.3-pounds. Based on Intel's Centrino 2 platform, the A605 has an ultra-low voltage Core 2 Duo SU9300 processor, 3GB of DDR3 RAM, a 250GB 5,400rpm hard-drive and up to 6.9hrs battery life.
Despite the measurements, Toshiba have still managed to squeeze a dual-layer DVD burner in there, together with WiFi a/b/g/n (though no 3G WWAN option), a webcam and a microphone. The A605 has three USB 2.0 ports, one of which doubles as an eSATA port; they're also "Sleep-and-Charge" ports, which are still powered despite the laptop itself being switched off.
Graphics are onboard using Intel's integrated 4500MHD chipset, and the OS is the 32-bit version of Windows Vista Ultimate. The Toshiba Portégé A605 is available now, priced at $1,399.99.
Press Release:
ULTRAPORTABLE TOSHIBA PORTÉGÉ A605 LAPTOP NOW AVAILABLE WITHIN CONSUMER MARKET

IRVINE, Calif. (Oct. 21, 2008) – Toshiba's Digital Products Division, a division of Toshiba America Information Systems, Inc., today announced the Portégé A605, a sleek and innovatively designed 12.1-inch laptop PC based upon the award-winning business-oriented Portégé R500 ultraportable laptop computer.

The Portégé A605 was uniquely designed, engineered and manufactured by Toshiba, and includes many of the high-end technologies found in the Portégé R500 with a starting price of $1,399.991.

Developed to appeal to mainstream consumers with its sleek silver aluminum enclosure, the 12.1-inch Portégé A605 includes several innovative design qualities such as starting at a mere 3.3 pounds2, measuring just 1.18 inches thin, an impressive 6.9 hours of battery life4 and USB Sleep-and-Charge ports3. The Portégé A605 is an ideal lightweight laptop for consumers who value mobility without sacrificing useful features and computing performance, such as a built-in optical drive.

The Portégé A605 comes with a collection of solid standard components such as the latest Intel® Centrino® 2 Duo Processor5 technology, 3GB of RAM6 and a large 250GB hard drive7. The Portégé A605 is a perfect choice for mobile users who require strong computing performance while on-the-go.

The Portégé A605 provides mobile users with a highly dependable eco-friendly laptop that is ENERGY STAR® 4.0 compliant.

The Toshiba Portégé A605 is constructed from high-quality, lightweight components and space-saving technologies such as Toshiba's unique High Density Mounting Technology process. This innovative process efficiently manages the system's internal real estate by utilizing a dual-sided motherboard component mounting technique, which provides enough space for the Portégé A605 to support its built-in optical drive.

Toshiba also incorporated its popular EasyGuard® Technology8 business line feature within the Portégé A605. EasyGuard is a comprehensive series of hardware and software enhancements designed to better protect and secure one's laptop during everyday computing. Components include HDD Protection, a spill-resistant keyboard9 and fingerprint reader.

The new Portégé A605 is available at a variety of major consumer electronics and computer stores nationwide or directly from Toshiba at www.toshibadirect.com. Detailed product information is available at www.explore.toshiba.com/A605. The Portégé A605 is available with a one-year standard limited warranty10.

The following configuration demonstrates some of the various specifications and price options available with the Portégé A605 series:

Portégé A605-P201 Unique Specifications (ESUP $1,399.991)

· Genuine Windows Vista® Ultimate (SP1, 32-bit version)

· Intel® Core™ 2 Duo Processor5 ULV SU9300

· 3072MB DDR2 800 memory6

· 250GB (5400 RPM) Serial ATA hard disc drive7

· DVD SuperMulti (+/-R double layer) with Labelflash™ drive

· Mobile Intel® graphics11 Media accelerator 4500MHD

· Built-in webcam and microphone

· eSATA/USB combo port with USB Sleep and Charge3

· Intel® 802.11 a/g/n wireless-LAN12

· One-year standard limited warranty10