Toshiba Micro-Projector really is incredibly micro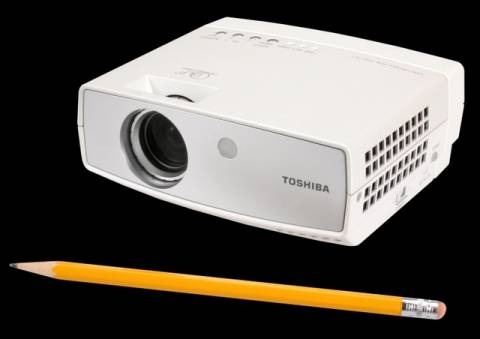 I have very weak arm muscles.  About the contained power of a small kitten in each, I'd say.  So the thought of lugging a projector around wherever I needed to make a presentation fills me with a kind of hydrogenated, syrupy dread.  Luckily I have people like Toshiba looking out for me – their TDP-FF1AU is a one-pound miracle that fits into the palm of your hand. 
It's not anaemic, either; SVGA resolution supporting up to 800 x 600 and a 1500:1 contrast ratio, giving an image from 11" to 68" diagonally across.  It runs cool, too, thanks to Toshiba chucking out the old-fashioned lamp and instead using a super-bright LED good for 10,000 hours before replacement.  Low heat means no fan, which adds up to far longer battery life; in fact, the external Li-Ion pack can keep going for up to two hours.
Coming complete with a remote control, cables (VGA and USB), a carrying bag and a collapsible 23" screen for on-the-train mini demonstrations.  The TDP-FF1AU even has a built-in speaker; sure, it only manages 0.5 watts, but it's better than nothing!  $699 and available now.
The only thing on my wish-list would be some sort of wireless support: Bluetooth or WiFi.  Perhaps in the second version?