Toshiba JournE Tablet Gets Hands-On Treatment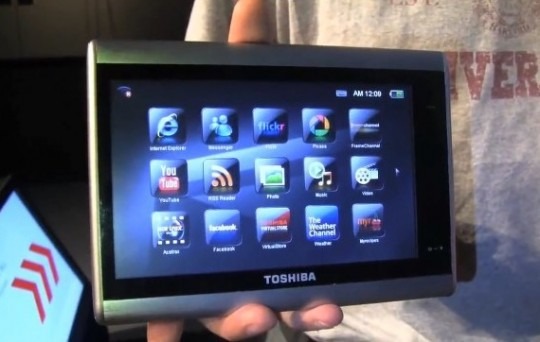 We just talked about the JournE, the new Mobile Internet Device (MID) from Toshiba. We still have a relative lack of information regarding the details of the device, but if the media playback of HD videos, plus an emphasis on streaming online videos via sites like YouTube isn't enough to get you excited, we don't know what will. Truth be told, the MID-range of devices is pretty, well, mid-range, but from what we are seeing now, especially by the excitement displayed in the video after the break, we can't help but get even more excited.
We've got streamlined services for Flickr and Picasa, and the Windows Live Messenger Service that offers chatting via text and voice. While we would have liked to have seen a more in depth look in the video, all we really get is a good glimpse of what the device will look like physically, and what we presume will be the standard homescreen, with a plethora of application widgets right there, ready to touch. We couldn't help but chuckle, when the Facebook application was brought up, there was no real direct indication on how to go back to the home screen. This leads to a quick tour of the hardware, which encases the 7-inch screen in aluminum. However, they seemed to allude to the fact that the model they are holding is a special model, and perhaps not meant for mass production.
We'll let the video take the rest. And by all means, tell us what you think. Do you think the price-range heard on the video, anywhere from $239 to $299 is a right price point for this thing? Or are you looking more for a smaller device?
[via Netbook News]