Toshiba Fuel-Cell To Launch In Next Two Months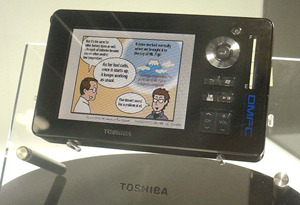 Toshiba promised high and delivered, well, not at all with its first commercial fuel-cell, missing the tentative December 2008 prediction and then seeing March 2009 sweep by without a hint of a product launch.  Now the company is claiming it will release an external battery-charging fuel cell device within the next two months.
The unnamed device uses a DMFC (direct methanol fuel cell) that uses a controlled reaction between air, water and methanol to create electricity.  That is then used to recharge cellphones, PMPs and other small devices.
Toshiba have promised the launch before the end of this current quarter, which suggests they see the fuel-cell arriving before September is out.  Beyond the portable charger – which will use replaceable sealed methanol cartridges – they're planning fuel-cell powered laptops and compact versions for cellphones.
[via Reg Hardware]