Toshiba Flaunts 13.3-Inch AT330 Prototype ICS Tablet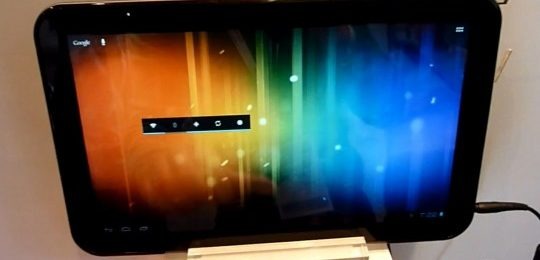 Toshiba has unveiled a new prototype tablet, the AT330, at Toshiba World 2012 in Germany and it's a huge 13.3-inch slate sporting the latest Android 4.0 Ice Cream Sandwich. Beyond the massive screen size, the AT330 also features a Tegra 3 quad-core processor and a TV tuner that includes a pull-out antennae. The folks at Techfokus spent some hands-on time with the tablet, the video of which is posted below.
The Toshiba AT330 prototype tablet is nearly double the size of the 7.7-inch AT200 prototype the company revealed at Mobile World Congress earlier this year, which also featured an NVIDIA Tegra 3 quad-core processor and a similar aesthetic. But the AT330's roomier body accommodates 32GB of storage with a full-sized SD card slot and HDMI output.
Not too much more is known about the specs of the AT330 other than having a 5-megapixel rear-facing camera and a 1.3-megapixel front-facing camera. It's not certain what resolution display it has, but it looks to be a 1920 x 1200 LCD panel. The size would suggest a hefty device, but the marketing indicates it's a lightweight tablet, although we don't know yet exactly how much it weighs.
[via Android Community]