Toshiba 7.7" NVIDIA Quad-Core Tablet Hands-On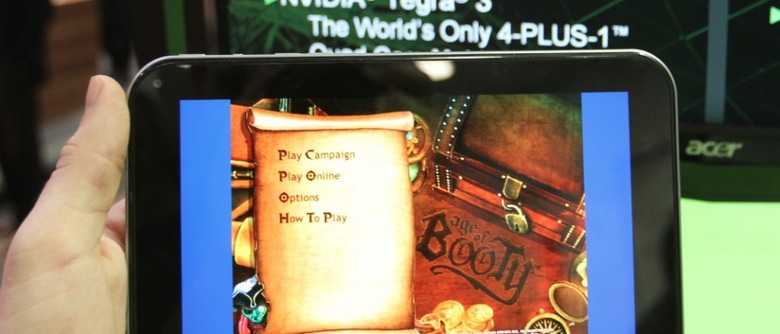 Here at Mobile World Congress we came across an unannounced 7.7" quad-core Tegra 3 tablet from Toshiba with the name AT270. This ultra-thin and blazing fast tablet was extremely impressive and one of the thinnest tablets we've seen here — not to mention running on a quad-core and Android 4.0 ICS. Check out the pictures and hands-on video below.
This tablet was briefly spotted at CES and specs listed the display as a 1280 x 800 AMOLED HD panel and from our initial impressions that is most likely what we have here. The 7.7" screen was extremely vivid and crisp, as were the games being played on it thanks to the power of the NVIDIA Tegra 3 quad-core processor. Toshiba's previous tablets have been a little on the fatter side, so to not only see a thin tablet, but one of the thinnest of the entire show has us extremely impressed.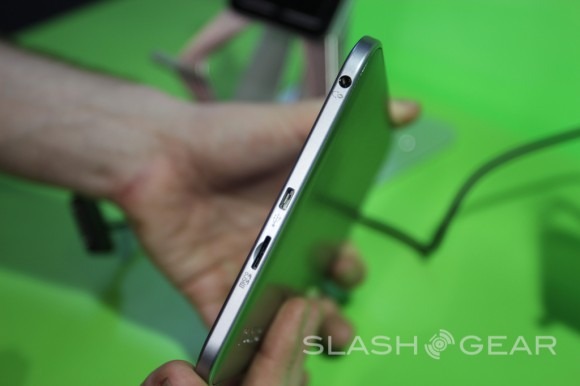 You can see from the image above it's barely thicker than the 3.5mm headphone jack, and this was throughout the entire tablet — not just on the edges. The device was constructed of a solid and durable feeling lightweight aluminum with a textured back and no other details were available on this prototype device. With a rear facing camera and micro-SD slots on board this should be a great all around tablet.
We can assume that along with the Tegra 3 quad-core we have 1GB of RAM and between 16-64GB of internal storage. Packing all those specs into such a thin chassis really was impressive to hold and during use. Not only is this prototype AT270 tablet amazingly thin but it was also exceptionally lightweight. I would love to have one and hope it becomes more than just a prototype.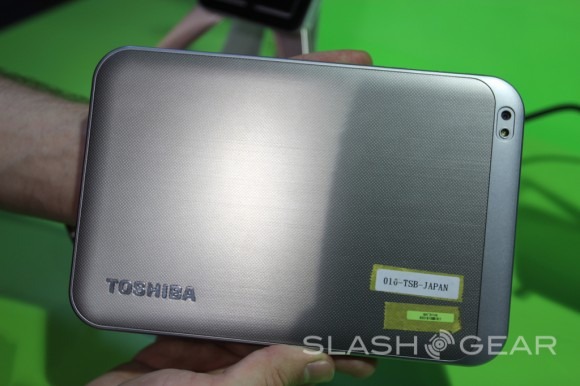 Hopefully we'll hear more on this Tegra 3 powered 7.7" Android 4.0 Ice Cream Sandwich tablet from Toshiba in the coming days or weeks, so stay tuned and enjoy our hands-on pictures and video below.
[vms ecdc50e4249581b861f8]