Toshiba Excite 13-inch Android tablet hands-on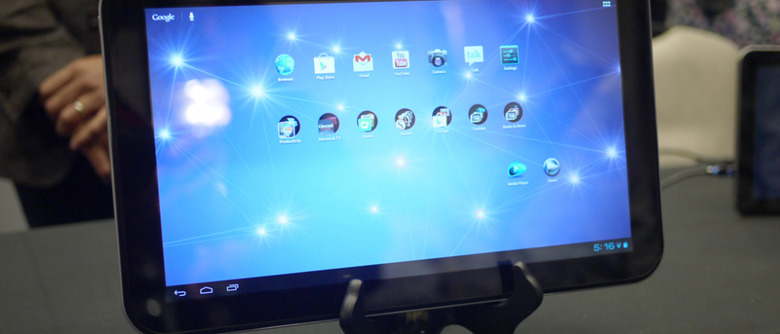 It's time for Toshiba to bring the fire with a real live working unit of the Excite 13-inch tablet at Pepcom during CTIA 2012. This device is a massive yet thin beast running Android 4.0 ICS and toting a taste for full-screen web browsing without a doubt. It's got Gorilla Glass on the front, aluminum on the back, and is surprisingly light for how massive it appears. The display is 13.3-inches of LCD with 1600 x 900 pixels placed upon it – 16:9 for an ideal media experience – if you love gigantic images right in front of your face, of course!
What you're looking at is a near-complete set of software and hardware from Toshiba on this tablet which is still set for a Summer release here in the USA. We'll likely see a smaller spread as far as how many units will actually be available on the market, but the device itself will more than likely see some really avid hacker and developer attention on an underground tip. This device currentl;y runs Android 4.0.3 and has a very light Toshiba set of features on top in the form of applications only.
Toshiba has included their own Media Player here which allows you to connect with several other kinds of devices and has the ability to make this device exactly what it looks like – a movie-watching masterpiece. How you feel with a full-sized display sitting in your lap is totally up to you, of course, but we'll be experimenting with the possibilities of bursting forth Angry Birds as big as our fingertips. Or perhaps with just a bit bigger environments – much improved gaming!