Toshiba Chromebook 13.3 hands-on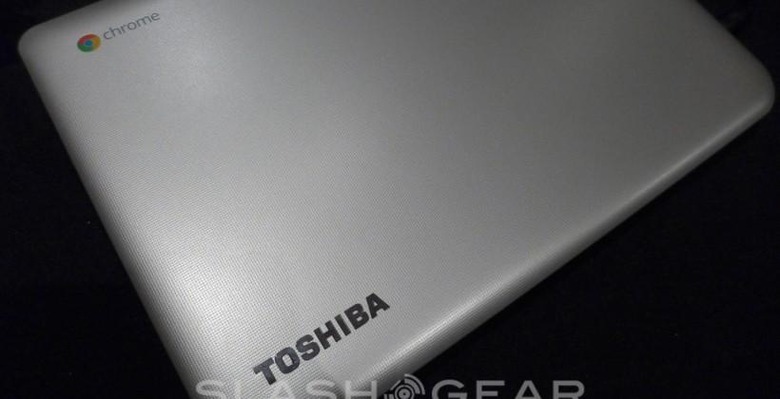 With Chromebooks gobbling up more and more of the market, it isn't any wonder we are seeing more and more companies joining the party. The latest, and the first from Toshiba is a 13.3-inch Chromebook with Haswell. This particular model won't be available until sometime in mid-February, however Toshiba has priced it, offered a complete set of specs and has it on display here at CES.
With that in mind, we spent some a brief few minutes checking out the newly announced Chromebook. This particular model is light and sports a textured top cover. The familiar Chrome and Toshiba logos are sitting on the top, as well there is another Toshiba logo sitting on the inside — towards the lower left of the display.
Toshiba has a decent overall design here. The notebook feels light when picked up, and according to the spec sheet, it measures in at 3.3 pounds. It isn't particularly thin, but at 0.8-inches there isn't much to complain about in that regard. As for the display, along with the 13.3-inch measurement, the resolution is a familiar 1366 x 768. The quality of the display is good for this model, but nothing to get overly excited about.
Aside from the hardware, the overall experience will be familiar for those familiar with Chrome OS. While some will have their complaints, there is something to be said about the simplicity. Not to mention, the quick boot times and the lack of having to worry about regular maintenance. That said, once available Toshiba will have this priced at $279.99.