Toshiba Chromebook announced with 13.3-inch display and Haswell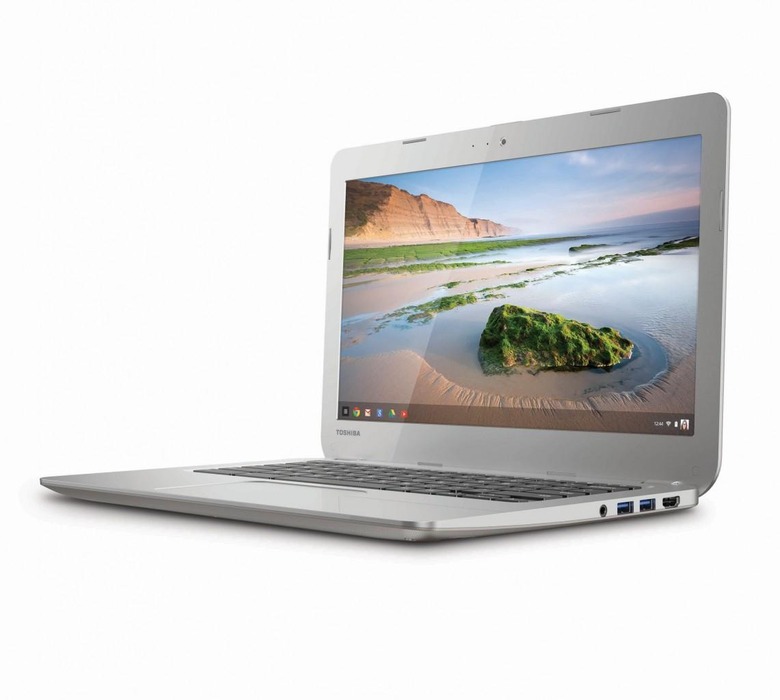 Toshiba has officially entered the Chromebook market with a 13.3-inch model that is expected to arrive for those in the US in February. The Toshiba Chromebook will be priced at $279.99 and bring Intel's Haswell platform with a promised battery life of up to nine hours. The display will have a familiar Chromebook resolution of 1366 x 768.
Aside from the Intel Celeron processor, the Chromebook will also have 2GB of RAM, a 16GB SSD and 100GB of Google Drive cloud storage. Those considering a purchase will also be able to expect dual-band WiFi 802.11 a/b/g/n, Bluetooth 4.0, a pair of USB 3.0 ports and a full-size HDMI port.
There is also a memory card reader and security lock slot. As far as the notebook itself, aside from the 13.3-inch display, Toshiba has this one weighing in at 3.3-pounds. The thickness will be 0.8-inches. Similar to other company branded Chromebooks, Toshiba is pushing this one as being ideal for consumers, schools and businesses.
More to the point here, Toshiba has said this Chromebook will be able to provide "even more choicest very affordable prices." As for a specific date in February, that will be the 16th, with availability direct from Toshiba as well as with other major retailers.