Toshiba Centrino 2 notebooks launch, including Cell-equipped G55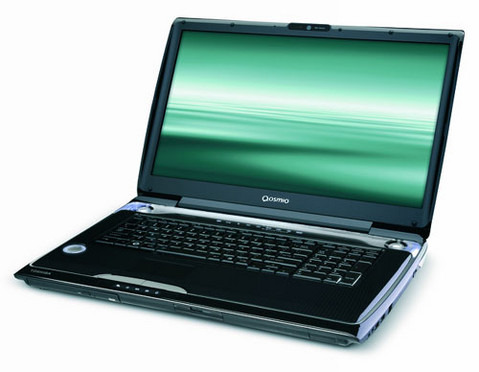 Fresh on the Centrino 2 bandwagon, Toshiba have launched their latest media-happy Qosmio entertainment notebooks, including the world's first laptop with Cell Processor technology.  The three new models, which were first announced last month, comprise the G55, the F55 and the gaming X305, and all use Intel's latest mobile platform.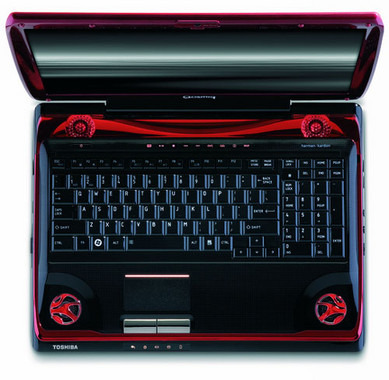 The F55 and X305 are relatively standard notebooks.  The former has a GPS receiver for navigation, NVIDIA GeForce 9700M GTS graphics powering a 15.4-inch TruBrite high-def display and 2.1 Harman Kardon speakers, together with HDMI, eSATA, a DVD SuperDrive and face-recognising webcam.  The X305, meanwhile, will be available exclusively at Best Buy and comes with an NVIDIA GeForce 9700M GTS video card, Core 2 Duo P7350 processor, a 17.1-inch widescreen display and 200GB, 7,200rpm HDD.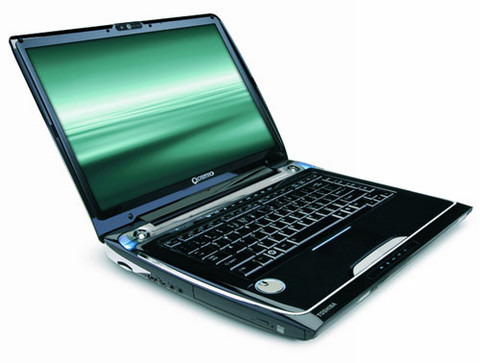 Where it gets interesting is the G55.  The Cell Processor – which has seen action in the PS3 – comes under th brand name "Quad Core HD Processor" and takes on heavy multimedia processing chores such as video transcoding; that means the G55 is capable of real-time upconversion of standard-def video to 720p, super-fast transcoding between media formats and "video indexing" where clips are catalogued according to facial recognition.  There's also gesture control, using the onboard webcam.
An 18.4-inch widescreen display and 2.1 Harman Kardon speaker system means the G55 is definitely a desktop replacement rather than a notebook you'd want to take with you everywhere.  Hook-ups to your existing home entertainment system are via HDMI and it can control Toshiba-branded AV equipment thanks to REGZA LINK.
The F55, X305 and G55 are available now.
Qosmio F55-Q502 Unique Specifications (MSRP $1,399.99)
– OS selection at first boot:
– Genuine Windows Vista(R) Home Premium (SP1, 32-bit version) (default)
– Genuine Windows Vista(R) Home Premium (SP1, 64-bit(4) version)
– Intel(R) Core(TM) 2 Duo Processor P7350(6)
– 3072MB PC-6400 DDR2 SDRAM(7)
– 320GB (5400 RPM) Serial-ATA HDD(8)
– DVD SuperMulti (+/-double layer) with Labelflash(TM) drive
– NVIDIA(R) GeForce(R) 9700M GTS with 512MB GDDR3 discrete graphics(2) memory
– Atheros(R) (802.11 b/g/n)(9)
– Built-in GPS(1) ready
Qosmio F55-Q503 Unique Specifications (MSRP $1,749.99)
– OS selection at first boot:
– Genuine Windows Vista(R) Home Premium (SP1, 64-bit(4) version) (default)
– Genuine Windows Vista(R) Home Premium (SP1, 32-bit version)
– Intel(R) Core(TM) 2 Duo Processor T9400(6)
– 4096MB PC-6400 DDR2 SDRAM(7)
– 320GB using two (7200 RPM) Serial-ATA HDD(8)
– DVD SuperMulti (+/-double layer) with Labelflash(TM) drive
– NVIDIA(R) GeForce(R) 9700M GTS with 512MB GDDR3 discrete graphics(2) memory
– Atheros(R) (802.11 b/g/n)(9)
– Bluetooth(R) version 2.1 + EDR
– Built-in GPS(1) ready
Qosmio X305-Q701 Unique Specifications (MSRP $1,549.99)
– OS selection at first boot:
– Genuine Windows Vista(R) Home Premium (SP1, 64-bit(6) version) (default)
– Genuine Windows Vista(R) Home Premium (SP1, 32-bit version)
– Intel(R) Core(TM) 2 Duo Processor P7350(3)
– 4096MB PC3-8500 DDR3 1066MHz SDRAM(4)
– 200GB (7200 RPM) Serial ATA HDD(5)
– DVD SuperMulti (+/- double layer) with Labelflash(TM) drive
– NVIDIA(R) GeForce(R) 9700M(2) GTS with 512MB GDDR3 discrete graphics memory
– Intel(R) Wi-Fi Link 5100AGN (802.11a/g/n)(7)
– Bluetooth(R) version 2.1 + EDR
Qosmio G55-Q802 Unique Specifications (MSRP $1,549.99)
– OS selection at first boot:
- Genuine Windows Vista(R) Home Premium (SP1, 64-bit5 version)(default)
- Genuine Windows Vista(R) Home Premium (SP1, 32-bit version)
– Intel(R) Core(TM) 2 Duo Processor T7350(1)
- 2.0 GHz, 3MB L2 Cache, 1066MHz FSB
– TOSHIBA Quad Core HD Processor(1)
– 4096MB PC2-6400 DDR2 800MHz SDRAM memory(6)
– 500GB using two 5400 RPM Serial ATA hard disk drives(7)
– DVD SuperMulti (+/- double layer) drive with Labelflash(TM) supporting 11 formats
– NVIDIA(R) GeForce(TM) 9600M GT with 512MB GDDR2 discrete graphics(2) memory,
– Atheros(R) 802.11 b/g/n wireless-LAN(8)
Qosmio G55-Q801 Unique Specifications (MSRP $1,299.99)
– OS selection at first boot:
- Genuine Windows Vista(R) Home Premium (SP1, 64-bit(5) version)(default)
- Genuine Windows Vista(R) Home Premium (SP1, 32-bit version)
– Intel(R) Core(TM) 2 Duo Processor T7350(1)
- 2.0 GHz, 3MB L2 Cache, 1066MHz FSB
– 4096MB PC2-6400 DDR2 800MHz SDRAM memory(6)
– 320GB (5400 RPM) Serial ATA hard disk drive(7)
– DVD SuperMulti (+/- double layer) drive with Labelflash(TM) supporting 11 formats
– NVIDIA(R) GeForce(TM) 9200M GS with 256MB GDDR2 discrete graphics(2) memory
– Atheros(R) 802.11 b/g/n wireless-LAN(8)