Toshiba CELL REGZA 55X1 HDTV: 8 simultaneous time-shift channels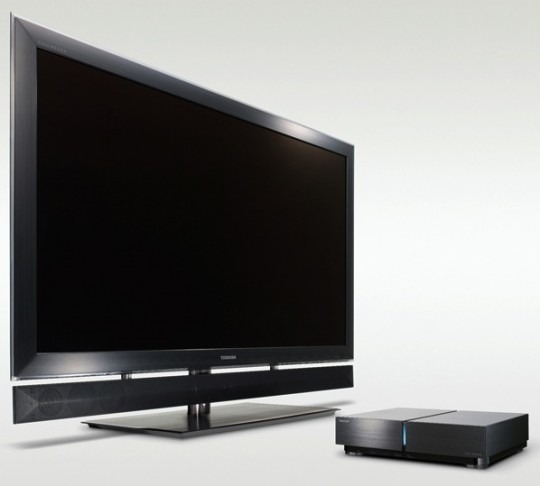 Toshiba have announced their latest high-end LCD TV, and it's the first to include the Cell Broadband Engine for multi-channel display and DVR recording.  The Toshiba CELL REGZA 55X1 has a 55-inch, 5,000,000:1 contrast LED-backlit panel, with independent control over each of the 512 LED backlighting zones and 240Hz refresh.  It's accompanied by a processor box, housing the Cell goodies, which can pump out eight channels to be shown on-screen at once, time-shift up to eight channels simultaneously for 26 hours, or boot up a web browser based on Opera.
In fact the DVR box has a whopping 3TB of storage (up to 2TB set aside for time-shifting) and supports DLNA streaming and YouTube playback, too.  Both it and the display are finished in "smoked aluminum", and the screen also uses "self-congruency" to improve picture quality at the edges of the panel, and 2.5x the luminance of regular sets.  A 7-speaker sound bar is slung under the display.
The Toshiba CELL REGZA 55X1 will arrive in Japan come December, and is tipped to be priced at 1,000,000 yen ($11,107).  It's also to be the first of a number of similar sets, including smaller (and hopefully cheaper) models that offer the same CELL processing and DLNA server technology.
Press Release:
Toshiba Unveils the CELL REGZA 55X1

The World's First1 LCD TV Integrating the Cell Broadband Engine™–To be Available in Japanese Market from December–

Tokyo—Toshiba Corporation (TOKYO: 6502) today unveiled the future of home entertainment, the CELL REGZA 55X1. This new LCD TV, the flagship of the company's REGZA line-up, offers viewers state-of-the-art picture quality, including a dynamic contrast ratio of 5,000,000:1, and supports this with ultra-high-speed processing and recording, enhanced navigation and seamless network interactivity. The CELL REGZA 55X1 will be available in the Japanese market from the beginning of December.

The heart of CELL REGZA is Toshiba's CELL Platform. A combination of the high speed parallel processing of the Cell Broadband Engine™ 2, specially developed for demanding multimedia applications, and Toshiba's advanced image-processing algorithms, the CELL Platform achieves an arithmetic processing capability approximately 143 times 3 that of the current top-of-the-line REGZA TV, allowing it to support unrivaled image-enhancing capabilities. These include:

CELL Platform Super Resolution Technology that builds on Toshiba's current4, super resolution technology to offer unmatched picture quality.

Self-congruency, a dedicated process that improves image quality at the edge of the picture.

Enhanced color and brightness balance that improves picture color and definition.

LED backlight control system. In the CELL REGZA, the display is divided into 512 distinct areas, each with individually controlled lighting. Luminance is pushed to an industry high 5 of 1250cd/m2, 2.5 times the level of typical TVs, and the dynamic contrast ratio6 is an astonishing 5,000,000:1.

Another distinguishing feature of CELL REGZA is its storage capacity: a 3-terabyte (TB)7 hard disk drive. Two terabytes of capacity are dedicated to the CELL REGZA's "time-shift machine,"8 which can simultaneously record up to approximately 26 hours of programming for up to eight channels9 of digital terrestrial broadcasts. The time-shift machine allows viewers to catch up on missed programs simply by pressing the "time-shift machine" button on the remote control.

With the ability to store a massive amount of recorded programs, a fast, easy search function is essential. Toshiba delivers with "roaming navigation." This allows viewers to find and display information on recorded, current and future programs simply by inserting an identifier—the title, person's name, genre or related keywords.

The CELL REGZA consists of a striking, slim monitor and a stylish tuner that also integrates the hard disk drive. Both have a smoked aluminum finish, achieved with an alumite10 deposition process that lends the design a feeling of luxury. The remote controller is finished in the same way.

Drawing on some 80 years of experience in TV technology, and on synergies between its visual products, semiconductor and storage device businesses, Toshiba has developed CELL REGZA not only as the flagship model of its REGZA series, but also as a statement of the future of the LCD TV.

Product Outline

Product Model Screen Price Launch in Japan

CELL REGZA 55X1 55-inch

Full HD Open Beginning of

December 2009

Background to Development

As Japan approaches the end of analogue broadcasting in 2011, the digital TV market has entered a period of diversifying customer needs. In order to meet demand for more vivid reproduction of high contrast, high definition images, simultaneous viewing and recording of multiple programs, along with access to broadband content, Toshiba has developed the CELL REGZA TV and its innovative CELL Platform.

Key Features of the CELL REGZA

1. CELL Platform Super Resolution Technology achieves superior HD images

The CELL Platform supports the most advanced version of Toshiba's super resolution technology. Faithful image reproduction includes enhanced edge detail and color saturation, and also extends to better rendering of video from the Internet.

Super Resolution Technology: Self-congruency captures edge detail

Self-congruency, a newly developed technology, reconstructs the edge of the picture with more detail and greater realism. It samples successive patterns with the same intensity around the edge of images, and then copies pixels from these more defined areas to other parts of the edge. The result is more precise detail and more realistic high definition images.

Super resolution technology: Brighter color and image definition11

Digital images are rendered as a combination of "brightness" and "color" in each individual pixel. In normal digital broadcasts, the processor cannot match the pace at which data is delivered from the receiver, and data transfers are typically made with color information compressed to one-fourth that of brightness. The CELL Platform uses a Toshiba-developed algorithm to boost reproduction of color information to half the level of brightness information. Increasing color information reduces blurring at the edge of images, creating sharper, better defined pictures.

Super resolution technology: Improved Internet content and animation

Video content from the Internet viewed on a TV tends to be blurred, due to the lack of resolution and noise compression. Super resolution technology detects the noise compression of low-resolution Internet content and then separates and corrects the image to reproduce a sharper, clearer image more suited to a larger screen. The super resolution technology also detects animation content and controls noise at the edges.

2. High contrast of Mega LED Panel and LED Backlight control system

CELL REGZA integrates a Mega LED panel specially designed to interface with the CELL REGZA's high luminance LED. Together they achieve outstanding picture quality that is further enhanced by the CELL Platform.

Peak luminance is boosted 2.5 times and enhanced by intelligent peak luminance control

A peak luminance of 1250cd/m2 (the display's highest level of brightness and the maximum yet achieved in the industry) assures stunningly bright whites, while the wide dynamic range achieved by backlight luminance adjustment delivers a dynamic contrast ratio of 5,000,000:1, assuring deep, detailed blacks.

LED block array divides display into 512 separate areas

Toshiba's previous LED backlight control system divided the screen into 9612 distinct areas; the CELL REGZA control system divides it into 512, over five times more. This increase enables much closer management of image contrast and brings out image detail to the full. Better backlight control also sharpens edge detail and the textural effect of adjacent areas of brightness and darkness.

3. Doubling the effect of ClearScan 240

Toshiba's ClearScan 240 defines the standard for blur-free fast moving images, but with the CELL REGZA the company sets the bar even higher. By combining the 120Hz scan rate of ClearScan 240 with its new Backlight Scanning technology, Toshiba now achieves 240Hz scanning that makes action scenes crisper than ever. The new double backlight scanning function divides the display into 16, against eight for current REGZA models13.

4. Improving picture quality with color temperature control

Picture quality is also affected by ambient lighting conditions. CELL REGZA delivers real-time color temperature analysis that can identify daylight, evening sunlight, interior lighting and darkness. Optimum picture quality is achieved by automatic fine tuning of multiple control settings: 1024 steps in color temperature, a 128 scale dynamic gamma range, 100 brightness settings, 32 settings each for color saturation, color sharpness, and adjustment of super resolution, plus control of the LED backlighting.

5. Support for multiple recording and playback functions with a 3TB hard disk

"Time-shift machine" function simultaneously records multiple channels

CELL REGZA integrates a tuner supporting eight digital terrestrial channels, and its time-shift machine can store up to 2TB of recorded programs—that adds up to approximately 26 hours of programs simultaneously recorded from eight channels (the number of terrestrial digital channels available in Japan). Simply pressing the time-shift key on the remote control gives instant access to this huge library of recorded programs, and allows viewers to enjoy missed TV programs—or old favorites—whenever they like.

"Roaming Navigation" supports relevancy-based searches

"Roaming Navigator" can search for and deliver data on archived, on-the-air, and to-be-aired programs. A visual display centers on a thumbnail14 of the program chosen by the viewer, and other programs are shown circling this, either nearer or further, depending on relevancy15. Searches can be based on program title, a character or actor's name, genre or keyword. Relevancy-based searches deliver what you are looking for, and much more.

Multi-Image display of eight digital channels simultaneously while recording

The split screen is nothing new, but an eight-window multi-display16 is. With multi-image display for up to eight digital channels, it is a lot easier for viewers to check out programs and make choices.

"Multi Thumbnail" display shows scenes of recorded programs as thumbnails

"Multi Thumbnail" displays recorded programs as a multi-display of 40 time-divided thumbnails, making it very easy to select and go to a particular scene.

6. Network functionality

Supporting high image quality YouTube17 with high quality picture

A browser supporting full HD, based on the Opera18 browser and co-developed with Opera Software, provides full support viewing YouTube contents at near HD level quality. In addition, CELL REGZA supports:

- Broadband service

- DLNA19

- Display of JPEG digital photographs

7. CELL REGZA audio

CELL REGZA'S picture quality is complemented by a newly developed audio system and multi-amplifier system that deliver vibrant, full-bodied sound far surpassing that of current TV sound systems.

8. Others

Screen Size: 55-inches

Hard Disk: 3TB (Built-in)

Dimensions: Monitor: 133.3 x 96.3 x 40.2cm (W x H x D) (including stand)

Tuner: 43.6 x 10.9 x 38.7cm (excluding external projection),

Weight: Monitor: 44.0kg, Tuner 10.5kg

Power Consumption: Monitor: 320W (remote control stand-by mode: 0.10W)

Tuner: 140W (remote control stand-by mode: 0.2W)

Annual Power Consumption20: 324 kWh per year

For further information, visit http://www.toshiba.co.jp/regza/

(The above web site is in Japanese)

9. Focus on Environmental Considerations

Mitigation of global warming

- Power consumption is controlled by maintaining optimum image brightness

- The TV automatically goes into stand-by mode if no command is received from the remote controller for approximately three hours.

- Stand-by mode operates when the TV is set to external input and no signal is received.

Effective use of resources

All CELL REGZA components that use over 25g of plastics indicate the materials used and are designed for recycling.

RoHS21 and J-Moss22 (Green Mark)compatible

CELL REGZA contributes to moves toward environmentally conscious products by observing the requirements of the EU's RoHS and Japan's J-Moss.

Environmentally Conscious Products

CELL REGZA contains no brominated flame retardants (BFR) in the monitor part. Moreover, as an industry first23, polylactic oil and fat of plant origin are used for transparent front cover of power display, that contributes to reduce CO2 emissions.

For more information, visit http://www.toshiba.co.jp/env/en/products/index.htm

Toshiba Group, a Corporate Citizen of the Planet Earth, is committed to realizing a better environment. Guided by "Toshiba Group Environmental Vision 2050" the Group is implementing measures to boost environmental efficiency by 10 times in FY2050, against the benchmark of FY2000. The core target is to reduce projected CO2 emissions by a total equivalent to 117.7 million tons a year by FY2025, through the development and sales of highly efficient power supply equipment and systems, and the manufacture of environmentally conscious home appliances and office equipment. By working to mitigate global warming, make efficient use of resources and control management of chemicals, Toshiba Group creates value for people and promotes lifestyles in harmony with the Earth.

1.

As of October 5th, 2009 for digital high definition LCD TV.

2.

Cell Broadband Engine (CELL/B.E.), jointly developed by IBM, Sony Group and Toshiba, is a breakthrough design featuring a central processing core based on IBM's Power Architecture technology and eight synergistic processing elements (SPE). CELL/B.E. brings an unseen level of broadband processing power to digital products. CELL Broadband Engine is a trademark of Sony Computer Entertainment Inc.

3.

A floating point computation capability of 200 GFLOPS at theoretical peak performance. Metabrain in REGZA ZX8000 is 1.4 GFLOPS.

4.

Reproduction technology for image improvement. With current Super Resolution Technology, an image is once up-scaled and then converted to a lower resolution image. Toshiba's proprietary algorithm compares the edge detail and image texture of the lower resolution image against the original and detects areas that can be improved. This information is incorporated into the up-scaled image. The current function is adopted in other REGZA TVs, including the REGZA ZX8000 series.

5.

As of October 5th, 2009 for digital high definition LCD TV in Japan. Compared with ZX8000 series.

6.

The ratio of maximum luminance of an image with a 30% window white signal and minimum image luminance ratio of total black signal when looked directly from the front.

7.

1TB is calculated on the basis of 1TB = 1,000 GB and 1GB = 1-billion bytes.

8.

Programs that can be viewed using this function are limited to programs that the user has specified for simultaneous recording, for up to eight channels of digital terrestrial broadcasting. When the hard disk capacity designed for this function becomes insufficient, the oldest programs are the first ones deleted from the archive. Recorded programs can be moved to the built-in hard disk drive or to an external USB hard disk drive.

9.

This function is limited to programs that the user has specified for simultaneous recording, for up to eight channels of digital terrestrial broadcasting and up to one day of recording, for high-definition TV program (at a rate of 20Mbps).

10.

A coating process that adds corrosion resistance while decorating the aluminum.

11.

Super resolution technology for color can be applied to digital terrestrial, BS digital and 110 degree CS digital broadcasts, but not to video input from an external source, such as an optical disc.

12.

Compared with 55ZH8000

13.

Compared with ZX8000 series.

14.

Thumbnails will not be displayed for programs that have not yet aired. Information is displayed.

15.

The content displayed at the center of roaming navigation is based on Toshiba's relevancy evaluation technology and on analysis based on program information. It is not based on information from the manufacturer of the content or the provider.

16.

The multi –image display applies to digital terrestrial broadcast, BS, 110 degree CS digital broadcasting. The sub-display is applied to channel that is set-up by digital terrestrial broadcasting.

17.

YouTube and YouTube logo are trademarks of Google Inc.

18.

Opera is a trademark of Opera Software ASA. Opera browser is available with the touch-pad function by downloading the version of designed server and broadcasting that start from January, 2009.

19.

DLNA: Digital Living Network Alliance

20.

Energy consumption calculations follow as the standard defined by Japanese law.

21.

The RoHS (Restriction of Hazardous Substances) directive, which came into effect on July 1, 2006 in the European Union, limits the use of lead, cadmium, mercury, hexavalent chromium, polybrominated biphenyls (PBB) and ploybrominated diphenyl ether (PBDE) in electronic and electronic equipment.

22.

J-Moss is the framework for disclosure of information on chemical substances defined in the Japanese Industrial Standards contained in electrical and electronic products.

23.

As of October 5th, 2009 for digital high definition LCD TV.