Toshiba announce 20 Qosmio laptops: SpursEngine, TV tuners & more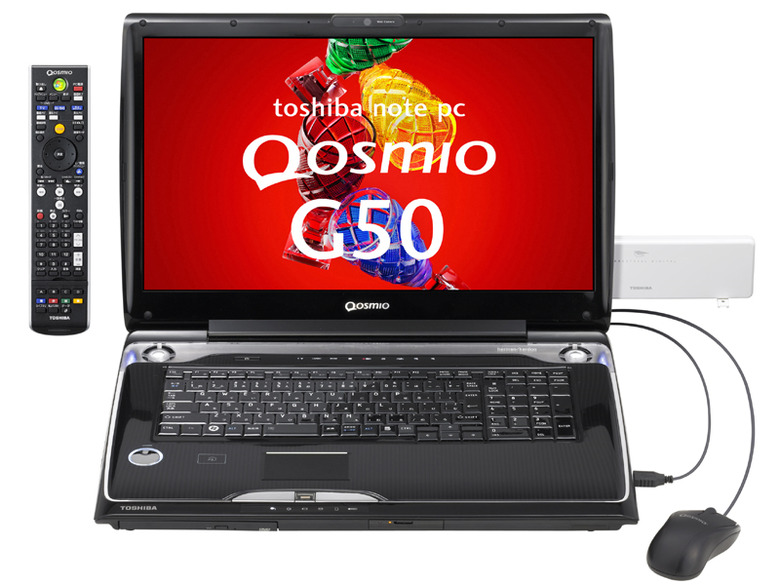 Expect the shelves of Toshiba retailers to be groaning by the end of the year, as the company delivers the twenty new Qosmio models it announced in Japan today.  Among the madness comes the SpursEngine-toting G50, with an 18.4-inch widescreen full-HD display, DVD burner and, bizarrely, around 4.5hrs of battery life.  The top-spec G50 has dual hard-drives (320GB and 250GB), NVIDIA's 512MB GeForce 9600M GT video card and a digital TV tuner.
Meanwhile, the F50 has a WXGA 15.4-inch display, digital TV tuner, P8600 Intel Core 2 Duo processor, 4GB of RAM and a 250GB hard drive. Gamers are catered for with the Qosmio GX and FX notebooks, the former with an 18.4-inch display while the latter has a 15.4-inch panel. Both use Intel's 2.4GHz Core 2 Duo P8600 processor, NVIDIA's GeForce 9600M GT video card, have 4GB of RAM and a 320GB hard drive.
Expect gigabit ethernet, draft-n WiFi, webcams and fingerprint scanner across the board, together with HDMI outputs, eSATA and an ExpressCard 54 slot.  Toshiba plan to begin rolling the new models out over the coming month, with pricing topping out at around ¥340,000 ($3,767) for the G50.
[via Impress]