Toshiba Android smartphone development confirmed?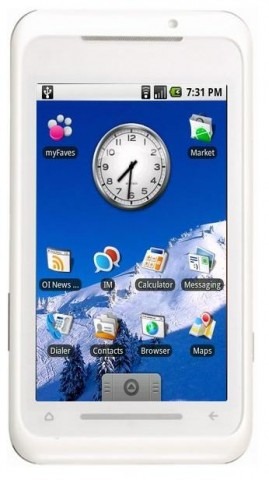 The surprise is perhaps diminished thanks to their joining the Open Handset Alliance (OHA) back in December 2008, but according to Taiwanese industry sources Toshiba are currently developing an Android-based cellphone.  No details regarding the smartphone have been disclosed, and Toshiba themselves are yet to publicly announce any Android intentions.
One possibility, however, is that Toshiba are considering a Qualcomm Snapdragon based Android device.  The company's TG01 Windows Mobile smartphone already uses the Snapdragon chipset, and Qualcomm themselves demonstrated Android running on a reference prototype back at CES in January.  Such a handset could have significantly improved AV capabilities, with various Snapdragon processors supporting anything from integrated WWAN and GPS to high-definition support, mobile digital TV, HSPA+ and WiFi.
Back when Toshiba joined the OHA - at the same time as Garmin, ASUS and Sony Ericsson – no specific intent for any one member was given.  Instead, they were tipped to either "deploy compatible Android devices, contribute significant code to the Android Open Source Project, or support the ecosystem through products and services that will accelerate the availability of Android-based devices."