Toshiba 750GB & 1.5TB 2.5-inch HDDs announced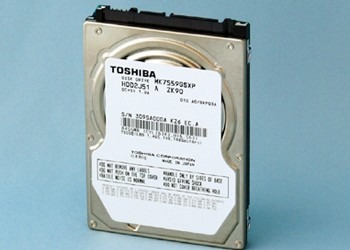 Toshiba have announced [pdf link] their latest notebook hard-drives, and as you'd expect the company is concentrating on packing more storage into the same amount of space.  Two new sizes have made their debut: a standard 9.5mm high 2.5-inch drive, the MK7559GSXP, with 750GB capacity, and the MKxx59GSM range of 12.5mm high 2.5-inch drives, with 750GB or 1.5TB of storage.
Obviously while the MK7559GSXP will fit into most laptops, you'll need a suitably deep bay for its thicker counterparts.  That's because Toshiba have squeezed in an extra platter, though all three of the HDDs spin at 5,400rpm.
They also all have 8MB of cache, SATA 3Gb/s interfaces and 12ms average seek times, and Toshiba reckon that – thanks to their "silent seek" technology – they're as quiet when active as they are when idling.  No word on pricing, but the MKxx59GSM drives should show up in Q2 2010, while the MK7559GSXP is expected to follow on in Q3 2010.
[via CNET]
Press Release:
TOSHIBA INTRODUCES HIGHEST-CAPACITY 2.5-INCH HARD DISK DRIVES IN TWO NEW PRODUCT FAMILIES

Industry-Leading Areal Density and Up to 1TB Capacities Provide Compact and Low-Power Solutions for Storage-Hungry Applications

IRVINE, Calif., March 24, 2010 – Toshiba America Storage Device Division, the pioneer in small form factor hard disk drives (HDDs), today announced two additions to its 5,400 RPM line of 2.5-inch HDDs featuring industry-leading storage capacities. In the standard 9.5 millimeter- high, two-platter design, the MK7559GSXP HDD incorporates both the industry's highest areal density and capacity at 750GB1.

Toshiba also introduced a new three-platter 12.5-millimeter-high platform with the MKxx59GSM series, which offers 750GB and 1TB of storage. These capacity points were predominantly supported by larger form factor 3.5-inch HDDs until the introduction of high-end 2.5-inch solutions, providing low-power, space-saving opportunities to system manufacturers looking to differentiate or update their products.

These two new product offerings expand Toshiba's mobile HDD product line into the highest-capacity segment of the 2.5-inch HDD market and represent the company's first mobile HDD platforms developed with the combined engineering resources from the integration of Fujitsu's HDD business, which Toshiba acquired last fall.

To deliver these next-generation storage capacities, Toshiba has implemented Advanced Sector Format technology in both families. This technology uses 4K byte-per-sector formatting and improved error-correcting code (ECC) functions, providing maximum data integrity and making efficient use of the storage surface area. Toshiba is guiding efforts to ease industry transition to the advanced 4K byte-per-sector format, while continuing to provide a full line of mobile HDDs, including models that support the legacy 512 byte-per-sector configuration.

"Toshiba continues to lead in integrating state-of-the-art technologies such as 4K byte- per-sector formatting to drive capacity increases and help system manufacturers succeed in their markets," said Maciek Brzeski, vice president of marketing at Toshiba Storage Device Division. "Since the introduction of our first 4K byte-per-sector offering on a 1.8-inch HDD in 2007, we have leveraged our miniaturization expertise to perfect this technology, balancing storage advancements and reliability with solid performance. As a result, Toshiba can deliver performance benefits with high capacity drives using the 4K byte-per-sector implementation by working with product manufacturers to maintain compatibility with the host device's operating system and software packages."

High Capacity for Digital Content Proliferation

The MK7559GSXP HDD features an areal density of 541.4G bit/in2, making it ideal for mobile applications in which capacity is key, including notebook computers and portable storage products. These HDDs also are well-suited for devices that value high capacity in a smaller footprint with improved acoustic performance and lower power operation compared to larger form factor HDDs. Those applications include all-in-one desktops, televisions and set top boxes.

At 12.5 millimeters-high, the MKxx59GSM series is geared to external add-on and removable storage, tape replacement and docking station applications, as well as addresses the escalating demand for capacity and portability in gaming notebooks, mobile workstations and other capacity-hungry applications. The 1TB MK1059GSM model can store up to 285,000 digital photos, 263,000 digital music files or 820 digital movies2.

The 1TB and 750GB capacity points target the strongest growth segment of the personal storage market. According to IDC, demand for these two capacity points will increase from 11 percent of the external add-on storage market to 46 percent by 20123.

"The HDD industry is extending its established, long-term trend of delivering more storage capacity in smaller form factors, giving system manufacturers new options for creating product designs in smaller, more economical footprints with lower power profiles," said John Rydning, research director at IDC. "Toshiba's new 750GB and 1TB 2.5-inch hard disk drives provide viable, smaller form factor alternatives to 3.5-inch HDDs in certain applications, as well as expand the storage capacity for removable HDDs and 2.5-inch personal storage solutions."

Both the MK7559GSXP and the MKxx59GSM HDDs incorporate Toshiba's "silent seek" technology, which makes every seek operation as quiet as an idling drive. These products also adhere to Toshiba's environmental initiatives in their use of power efficiency techniques and components that reduce reliance on harmful chemicals, materials and compounds.

Information and Availability

Toshiba's MKxx59GSM series and MK7559GSXP drives are scheduled to ship to PC manufacturers and distributors in the second and third quarters of 2010, respectively. Design samples of the MKxx59GSM are currently available to system manufacturers, followed by samples of the MK7559GSXP in April. For more information on Toshiba's line of industry- leading small form factor hard drives, visit www.toshibastorage.com.