Toshiba 128GB flash perfect for updated iPad & iPhone 4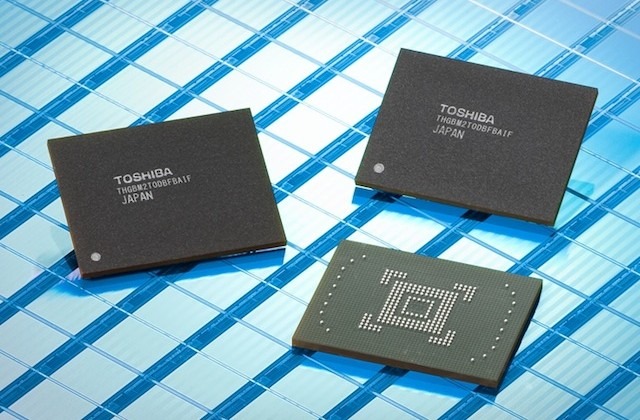 One minor surprise at the Apple iPhone 4 launch earlier this month was the storage on offer from the new smartphone.  The absence of a 64GB iPhone 4 raised a few eyebrows, especially given Toshiba had already revealed a 64GB NAND chip back in December 2009; now Toshiba has followed up with a 128GB NAND flash memory module, the biggest embedded chip in the industry and seemingly ideal for the iPad, iPhone and iPod touch.
The new modules measure a scant 17 x 22 x 1.4 mm and squeeze in sixteen 64Gbit4 (equal to 8GB) NAND chips produced on Toshiba's own 32nm production line.  They also manage to pack in the controller circuit too, making for a smaller overall gadget, reduced data errors and a cheaper bill of materials.
Toshiba are estimating up to 55MB per second read speeds and up to 21MB per second write speeds from the memory, which will also be available in smaller capacities than 128GB.  Mass production is expected to begin in Q4 2010, perhaps perfectly timed for the iPad 2G refresh in early 2011.
Press Release:
TOSHIBA LAUNCHES INDUSTRY'S LARGEST EMBEDDED NAND FLASH MEMORY MODULES

eMMC™ Compliant Embedded Memories Combine up to 128GB NAND and a Controller in a Single Package

Download Larger Image (JPG 1,284KB) IRVINE, Calif., June 16, 2010— Toshiba America Electronic Components, Inc ., and its parent company Toshiba Corporation (TOKYO: 6502) today announced the launch of a 128-gigabyte (GB)1 embedded NAND flash memory module, the highest capacity yet achieved in the industry2. The module is fully compliant with the latest e-MMC™3 standard, and is designed for application in a wide range of digital consumer products, including smartphones, tablet PCs and digital video cameras. Samples will be available in September, and mass production will start in the fourth quarter (October to December) of 2010.

The new 128GB embedded device integrates sixteen 64Gbit4 (equal to 8GB) NAND chips fabricated with Toshiba's cutting-edge 32nm process technology and a dedicated controller into a small package 17 x 22 x 1.4mm5. Toshiba is the first company to succeed in combining sixteen 64Gbit NAND chips, and applied advanced chip thinning and layering technologies to realize individual chips that are only 30 micrometers thick.

Toshiba offers a comprehensive line-up of single-package embedded NAND Flash memories in densities from 2GB to 128GB. They integrate a controller to manage basic control functions for NAND applications, and are compatible with the JEDEC e-MMC™ Version 4.4 and its new features. New samples of 64GB chips will also be available from August.

Demand continues to grow for large density chips that support high-resolution video and deliver enhanced storage, particularly in the area of embedded memories with a controller function that minimize development requirements and ease integration into system designs. Toshiba has established itself as an innovator in this key area, and is now reinforcing its leadership by being first to announce a 128GB generation module.

Key Features:

The JEDEC e-MMC™ V4.4 compliant interface handles essential functions, including writing block management, error correction and driver software. It simplifies system development, allowing manufacturers to minimize development costs and speed time to market for new and upgraded products.

The 128GB device stacks sixteen 64Gbit chips fabricated with leading-edge 32nm process technology. Application of advanced chip thinning, layering and wire bonding technologies has allowed Toshiba to achieve individual chips only 30 micrometers thick, and to layer and bond them in a small package. The result is an embedded flash memory module with the industry's highest density.

The new products are sealed in a small FBGA package only 17 x 22 x 1.4mm and has a signal layout compliant with the JEDEC eMMC™ V4.4.

Specifications e-MMC™

Interface JEDEC e-MMC™ V4.4 standard HS-MMC interface

Power Supply Voltage 2.7V to 3.6V (memory core);

1.65V to 1.95V / 2.7V to 3.6V (interface)

Bus width x1, x4, x8

Write Speed*

21MB per sec.6 (Sequential/Interleave Mode)

21MB per sec.6 (Sequential/No Interleave Mode)*

Read Speed*

46MB per sec. (Sequential Mode/Interleave Mode)

55MB per sec. (Sequential/No Interleave Mode)*

Temperature range -25degrees to +85degees Celsius

Package 153Ball FBGA (+84 support balls)

* Target figures