Torrent site btjunkie shuts down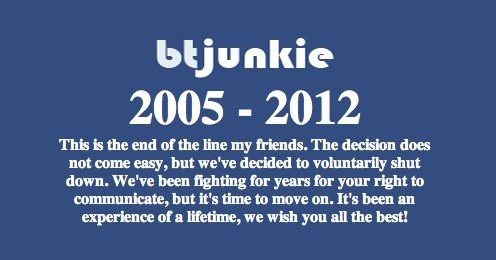 The anti-piracy crusade has claimed another victim, with BitTorrent indexing site btjunkie voluntarily shutting down this weekend. Apparently the fifth most popular torrent site online in 2011, btjunkie had opened its doors to download indexing in 2005. "We've been fighting for years for your right to communicate" the team behind the site said in a statement on Sunday, "but it's time to move on."
Rather than actually hosting files, as was the case with MegaUpload, btjunkie crawled the web looking for torrents. Private and public file-sharing sites were indexed, btjunkie serving up possible download links for peer-hosted content and fleshing them out with user-reviews to weed out bad or corrupted downloads.
"This is the end of the line my friends. The decision does not come easy, but we've decided to voluntarily shut down. We've been fighting for years for your right to communicate, but it's time to move on. It's been an experience of a lifetime, we wish you all the best!" btjunkie
Although they only point to download links, rather than host files themselves, torrent indexers like btjunkie have grown increasingly contentious as the film and music industries attempt to clamp down on methods of acquiring copyrighted content. News Corp. chief Rupert Murdoch even described Google as the "piracy leader" after discovering how easily possible download links for Sony-produced movies were to discover using the search engine.
btjunkie has not given any public reason as to why it chose now to shut down. With renewed attention on piracy amid the MegaUpload trial, though, it's unlikely to be the last site to consider downtime rather than face investigation.