Tongfong S30A 13.3-inch ultraportable with VIA Nano CPU [Video]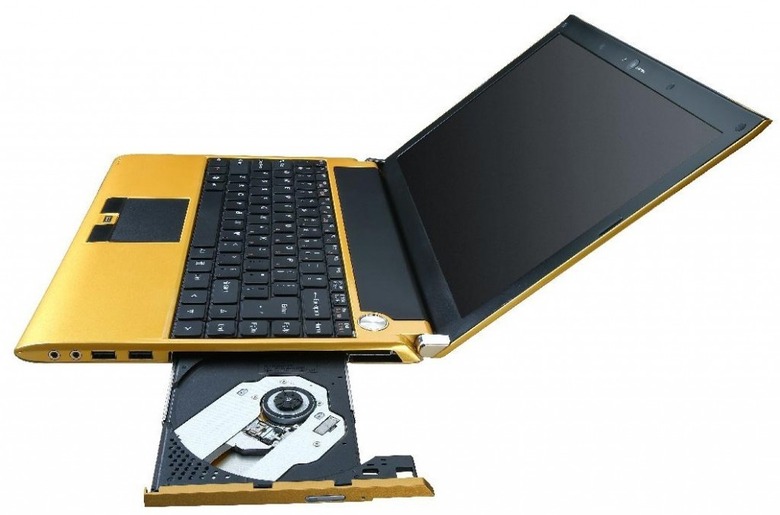 Chinese OEM Tongfong and VIA have announced the latest Via Nano based ultraportable, the Tongfong S30A.  A mere 33mm thick and tipping the scales at 1.4kg, the S30A has a 13.3-inch display, integrated DVD burner and 2GB of RAM; it uses the VIA 1.3GHz Nano U2250 processor together with the unified VIA VX800 MSP and discrete S3 Graphics Chrome 435 ULP graphics making for a HD-capable machine.
Video after the cut

There's also space for a 2.5-inch SATA hard-drive, WiFi b/g and 10/100 ethernet, plus a 4-in-1 card reader, ExpressCard slot, HDMI and VGA ports and two USB 2.0 ports.  The standard battery is a six-cell pack, but it can be augmented by removing the DVD burner and slotting in an optional three-cell secondary battery.
Vista and XP Home versions will be available.  We're yet to hear exactly what sort of runtime you can expect from the Tongfong S30A thanks to all that low-power hardware and batteries stuffed into every nook and cranny, and nor do we have any pricing or specific availability. 
Press Release:
VIA Nano Processor Powers New Tongfong Thin and Light Notebook

Tongfong S30A delivers advanced processing performance

and stunning DX10.1 graphics in a stylish 13.3" design

Taipei, Taiwan, June 2, 2009 – VIA Technologies, Inc, a leading innovator of power efficient x86 processor platforms, today announced the adoption of the VIA Nano processor platform by Tongfong, one of China's leading notebook providers, for their new Tongfong S30A 13.3" thin and light notebook.

The Tongfong S30A includes the high performance yet power efficient 64-bit 1.3GHz+ VIA Nano U2250 processor coupled with the unified VIA VX800 MSP and discrete S3 Graphics Chrome 435 ULP graphics for an HD video proficient, DirectX 10.1 certified notebook. HD audio and an HDMI port ensure that Tongfong customers will be able to enjoy rich media content in its finest form.

"VIA is delighted that Tongfong has selected the VIA Nano processor for their new Tongfong S30A," said Richard Brown, Vice President of Marketing, VIA Technologies, Inc. "With its advanced processing performance, DX10.1 graphics support, and stylish 13.3" design, the Tongfong S30A sets a new standard for the fast growing thin and light notebook segment in the China market."

"The Tongfong S30A provides the perfect blend of high-fashion design, leading-edge multimedia features, and excellent battery life," commented Tongfong's Vice President and General Manager of their Computer Group, Mr. Li Jianhang. "It will enable Chinese consumers to not only enjoy an outstanding thin and light notebook computing experience but also make a powerful personal style statement."

About the Tongfong S30A

The Tongfong S30A features a bright 13.3" display and full keyboard housed in a product design that is only 33 mm thick and weighs a mere 1.4Kg. Storage includes a 2.5" S-ATA hard drive and DVD Super Multi-Drive while networking is provided through a 10/100Mbps Ethernet and 802.11b/g wireless. Along with a 4-in 1 card reader, express card slot, and two USB 2.0 ports, the Tongfong S30A comes with a six cell battery as well as an option for an additional three cell battery that can be inserted in place of the optical drive for extended mobile scenarios.

The Tongfong S30A uses the 1.3+GHz VIA Nano processor, VIA VX800 Media System Processor and S3 Graphics Chrome 435 ULP dedicated graphics with 2GB of DDR2 system memory. The Tongfong S30A also supports an additional independently configurable display through both VGA and HDMI ports. The Tongfong S30A is available with either Microsoft Windows Vista or Windows XP Home.

About the VIA Nano Processor Platform

The first 64-bit, superscalar processors in VIA's x86 platform portfolio, VIA Nano processors have been specifically designed to revitalize traditional desktop and notebook PC markets, delivering truly optimized performance and security for the most demanding computing, entertainment and connectivity applications. The VIA Nano processor is coupled with the VIA VX800 system media processor with support for high definition video and audio playback, and up to 4GB of DDR2 system memory.

The VIA Nano processor family leverages advanced 65 nanometer process technology for enhanced power efficiency, and augments that with aggressive power and thermal management features within the compact 21mm x 21mm nanoBGA2 package for an idle power as low as 100mW (0.1W), extending the reach of power efficient green and silent PCs, thin and light notebooks and mini-notes around the world. For further information on the VIA Nano processor family, please visit the VIA website at: http://www.via.com.tw/en/products/processors/nano/

Delivering the full add-in card graphics experience in an onboard package, the S3 Graphics Chrome 435 ULP brings hardware acceleration for all leading video standards including H.264, MPEG-4, VC-1, WMV-HD and AVS for a stunning visual experience, while remaining within the strictest of thermal envelopes. For more details about the S3 Chrome 435 ULP processor please visit: http://www.s3graphics.com/en/products/class3.aspx?productId=15

About Tongfong Co. Ltd.

Based in Beijing, Tongfong Co. Ltd. is a leading PC OEM in China. Tongfong was first established in 1997 and is engaged in information technology, energy saving and environmental protection industries. Its IT businesses include information systems, application systems, digital television and internet applications. The company has enjoyed enormous success and rapid expansion over the past 10 years and is well on its way to achieving its aim of becoming a world-class enterprise.

About VIA Technologies, Inc.

VIA Technologies, Inc is the foremost fabless supplier of power efficient x86 processor platforms that are driving system innovation in the PC, client, ultra mobile and embedded markets. Combining energy-saving processors with digital media chipsets and advanced connectivity, multimedia and networking silicon enables a broad spectrum of computing and communication platforms, including its widely acclaimed ultra compact mainboards. Headquartered in Taipei, Taiwan, VIA's global network links the high tech centers of the US, Europe and Asia, and its customer base includes the world's top OEMs and system integrators. www.via.com.tw