TomTom VIO is a navigation display that uses your phone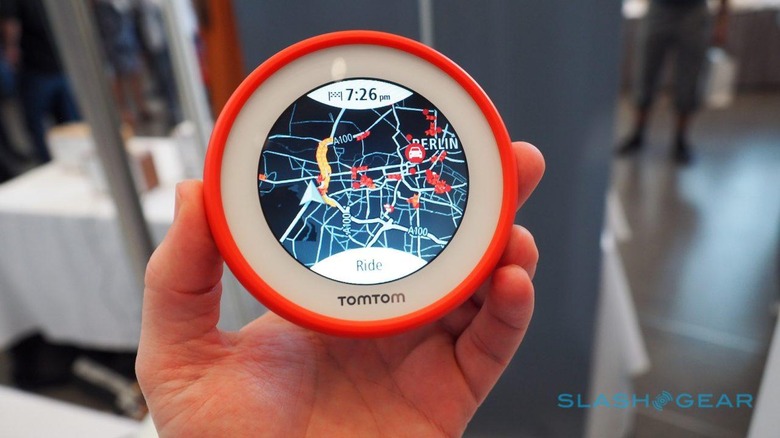 TomTom didn't only unveil fitness wearables at IFA — it has also taken the wraps off a pair of navigation devices, the next-generation GO devices and the entirely too intriguing VIO. The latest TomTom GO range brings the company's most advanced satnavs to date, according TomTom, while VIO brings a new twist (and unique design) to an aged technology: it's a puck-shaped navigation display that relies, in part, on your existing smartphone to provide directions.
The TomTom VIO is sure to catch many eyes, and though it is targeted at scooter owners, it's just as easy to see this being utilized in a car. Unlike the GO and other satnavs, VIO connects to your smartphone sort of like a secondary display, tapping the handset for pertinent things like rendering the graphics. It pairs this with a GPS chip built into the VIO itself (thusly helping conserve your phone's battery life), ultimately displaying the navigation details on the small round display.
VIO features a weatherproof touchscreen display and can be used while wearing gloves. Because it is targeted at scooter owners, the audible turn-by-turn instructions can be piped to a Bluetooth audio system for helmets; visual instructions are provided on-screen, as well.
There's the TomTom speed camera warnings, and users get speed warnings via colors: the display turns red if you're driving too fast, then back to normal when you slow down to the speed limit.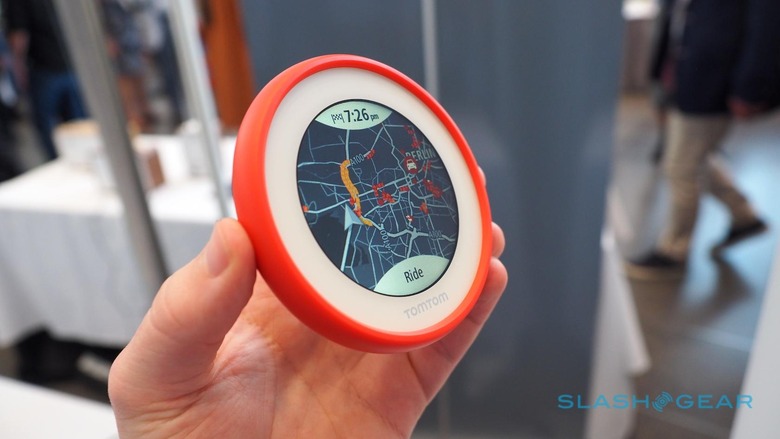 If you need something larger and more robust, though, there's the new GO satnavs. These have all the trimmings you could need — WiFi with automatic updates, real-time and, TomTom promises, "super accurate" traffic info, as well as Lifetime Services as part of the device cost. If you've gotten used to using voice controls for navigation, the new GO range has you covered with voice recognition.
The next-gen GO satnavs are compatible with personal assistants, including Cortana, Siri, and Google Now, and can provide some of their services like reading any texts you get out loud or dialing as part of hands-free calling. In terms of driving specifically, the GO devices learn the driver's habits overtime, learning to predict where you're planning to go, learning your regular commute, and how to avoid any traffic issues that may be present on those routes.
The new GO range includes the TomTom GO 5200 and the GO 6200, the first being 5-inches in size and the second 6-inches. Both GO devices include SIMs for updates and feature "super-fast quad-core innards," according to TomTom.