TomTom ONE 140 & 140S, XL 340 & 340S PNDs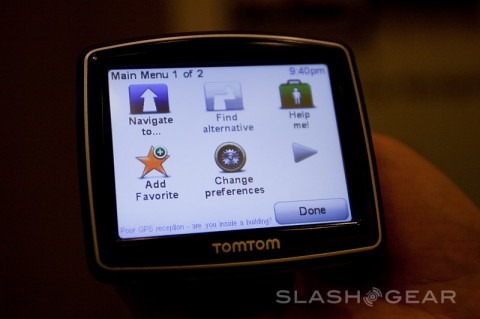 As well as the GO 740 LIVE, TomTom have announced four other new GPS models in their ONE and XL ranges, and we caught up with the company at MobileFocus to check them out.  The TomTom ONE 140 and ONE 140S both have a 3.5-inch touchscreen, while the TomTom XL 340 and XL 340S have a 4.3-inch touchscreen; in each case, the 'S' suffix indicates text-to-speech support for spoken street and place names.
Video demo after the cut
Each of the units has full mapping of North America, now including Mexico, together with seven million POIs, MapShare technology to make distributing user-identified map changes straightforward, and the TomTom Help Me! menu, which gathers together local safety and emergency information.  They also use the TomTom Fold and Go EasyPort mount, which provides the usual screen-fix but in a design that can fold flat enough for a shirt-pocket. 
The TomTom ONE 140 is priced at $179.95 while the text-to-speech ONE 140S is $199.95.  As for the TomTom XL 340, that's $229.95 while the text-to-speech XL 340S is $249.95.  All four units are available now.
[vms b65f4c0ccd295cc484e5]
Press Release:
Premium technologies including IQ Routes™ and Advanced Lane Guidance now available on new TomTom ONE and TomTom XL

Concord, MA – April 1, 2009 – TomTom, the world's leading portable navigation solutions provider, today announces the newest additions to its world's best-selling portable navigation devices. The new TomTom ONE 140 series and TomTom XL 340 series incorporate TomTom's innovative IQ Routes™ Technology and Advanced Lane Guidance feature, which were previously available only on the high-end TomTom GO series. Additionally, the new models incorporate a new design that features a high-quality black finish, as well as increased North American map coverage that now includes Mexico. The new models have a recommended retail price starting at $179.95.

"The new TomTom ONE and TomTom XL devices strengthen our mid-range product offering considerably through the combination of first-class navigation and competitive price points," said Jocelyn Vigreux, president of TomTom Inc. "IQ Routes allows drivers to take those routes that only well-informed locals know. It takes away the stress of not knowing where to go and when you will arrive, as well as gives you a faster route in up to 35% of all cases. In addition, our Advanced Lane Guidance feature gives drivers the information they need to drive more safely and more confidently when dealing with complex road junctions."

Optimal Routing

The TomTom ONE 140 and XL 340 devices enable users to always drive the smartest and most efficient routes, whenever or wherever they go. The device comes pre-loaded with TomTom's exclusive IQ Routes Technology, which now incorporates historical speed profile data for both day of week and time of day to calculate the fastest route available based on when the user is actually driving to their destination. IQ Routes Technology is based on anonymous speed profiles gathered over the years by millions of participating TomTom users, and takes into account the real-world factors that influence the speed that drivers can actually expect to travel en route to their destination, such as historical traffic patterns, traffic lights, rotaries, school bus routes, and steeply-sloped roads.

Advanced Lane Guidance

The TomTom ONE 140 and XL 340 devices also incorporate TomTom's Advanced Lane Guidance feature when navigating in the US. Advanced Lane Guidance provides users with realistic representations of complex highway junctions and lane-specific visual directions that take the stress out of navigating these otherwise challenging areas.

The feature has been enhanced on the new ONE 140 and XL 340 models to include even clearer lane information for complex highway junctions that indicate which lane to take when multiple exits are close together.

Additional Features In addition to the above mentioned features, the new TomTom ONE and TomTom XL devices come with:

Full maps of North America, now including Mexico.

Seven million points of interest, so users have access to information and location details of more restaurants, hotels, gas stations, etc. than ever before.

TomTom Map Share™ technology, so users can instantly make specified map improvements on their device and share those with others, completely free of charge.

TomTom Help Me! menu and extensive safety features, so users have direct access to safety and emergency services information.

TomTom's newest user menu with an elegant interface that features optimized icons for even easier navigation

Award-winning Fold and Go EasyPort® mount, that easily folds to fit in any bag or shirt pocket.

TomTom HOME, the free desktop application to keep users' devices up-to-date at all times. New maps or software versions can be downloaded and users can personalize their device.

TomTom ONE 140/140S features a 3.5 inch screen, new look with a high-quality black finish and latest TomTom navigation software. The ONE 140S announces spoken street and place names aloud. TomTom XL 340/340S offers all key functionalities of the TomTom ONE on an extra large 4.3 inch touch screen for improved visibility of a driver's surroundings. The XL 340S announces spoken street and place names aloud.

Availability and pricing

The new TomTom ONE and TomTom XL devices will be in retailers across the United States and Canada in April 2009.

TomTom ONE 140: $179.95

TomTom ONE 140S: $199.95

TomTom XL 340: $229.95

TomTom XL 340S: $249.95