TomTom GO 930, 730 & 530 with new HD GPRS traffic receiver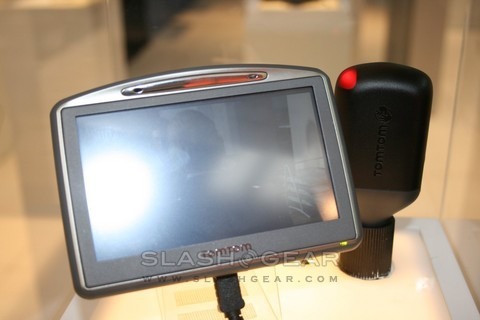 TomTom have launched a new range of in-car GPS sat nav units at CeBIT 2008 today, together with a GPRS-enabled traffic receiver that plugs directly into a car's cigarette lighter.  The three new devices, the 930, 730 and 530, all feature the company's new IQ Routes technology which not only takes into account distance and permitted road speeds in calculating routes but also real-world typical speeds.  TomTom are claiming that in 50-percent of journeys this new algorithm results in a different, quicker route than before.  The GPS units also add Advanced Lane Guidance, which introduces more realistic junction diagrams, arrows indicating lane transitions and better voice prompts.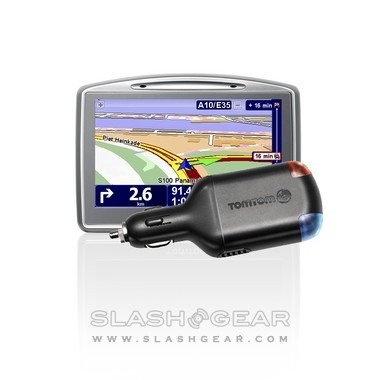 Existing TomTom functionality such as Map Share, a large 4.3-inch touchscreen, voice address input, text-to-speech for announcing road names, an FM transmitter and Bluetooth for using the units as a handsfree are all included.  The GO 930 has 4GB of internal memory while the GO 730 and 530 have 2GB and 1GB respectively; this can be augmented via an SD card slot.  Battery life is rated at 5 hours.
The High Definition (HD) Traffic Receiver, meanwhile, joins the TMC Traffic Receiver in bringing real-time road congestion data to TomTom GPS units.  Plugging directly into the cigarette lighter socket to recharge its Li-Ion battery, the HD uses the GPRS network to receive traffic data for a larger number of roads than the TMC unit.  Currently the HD service is available in the Netherlands, will be rolled out in Germany and the UK this year, and available in France come 2009.  
The HD Traffic Receiver will be included with certain GO models or available as a standalone accessory for the 930, 730, 530, 920, 720 and 520 devices, priced at €99.95 ($152) with six months of traffic service included; further subscriptions will be priced around €60 for six months.