Tokyoflash Kisai Keisan: numerically-challenged should not apply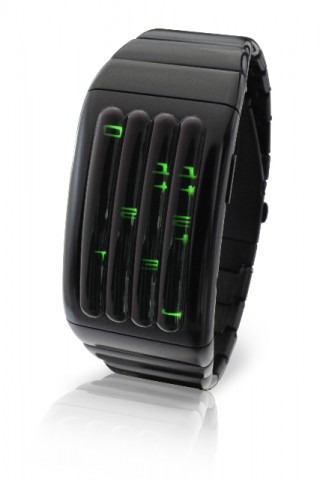 Tokyoflash have debuted a new timepiece, the Kisai Keisan, and as usual it's pretty tricky to read.  Constructed from high-grade aluminium with convex, magnifying lenses over a choice of red, green, orange or yellow LEDs, each watch is finished with a polished alumite coating.
To actually read off the time from the Kisai Keisan, you hit the button on the top right-hand side; that starts the LEDs blinking. A "T" or a "D" in the first column tells you whether you're looking at the time or the date; you then add up any numbers in each column to give you the time, left to right.
It's actually one of the easier Tokyoflash watches to decipher, although if your addition skills are lacking then perhaps not. The Tokyoflash Kisai Keisan is water resistant to 3ATM, has an auto-animation that triggers every twelve minutes, and weighs 80g. It's available now, in black with either red or green LEDs, or silver with orange or yellow LEDs, priced at 23,900 Japanese yen ($255) with worldwide shipping included.