Tokyoflash Giveaway: And the winners are...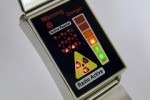 SlashGear's Tokyoflash Radio Active Giveaway ended yesterday, and we now know the three winners.  Taking away first prize – a limited-availability Radio Active Active Reactor watch, no longer officially on sale – is Kathy Schreiber; our two runners-up got to pick a timepiece from the current Tokyoflash catalog.  M.J. Coward, our first runner-up, selected the Pimp Star Performer IP Black, while our second, Andrea Woodworth, chose the Nekura Progression.
Congratulations to all three winners, and thanks again to Tokyoflash for sponsoring this giveaway!