TMNT Pizza Thrower project can launch pizzas 30 feet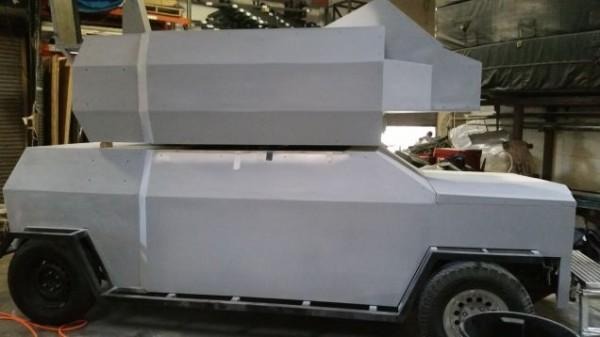 The newest Teenage Mutant Ninja Turtles movie is quickly approaching, and in honor of it, Pizza Hut has commissioned a project set to debut at Comic-Con that will bring your childhood fantasies to life: a truck-sized pizza launcher that can shoot delicious pies to a distance of 30 feet.
At San Diego Comic-Con this week, attendees will get a look at a life-sized Pizza Thrower that was commissioned by Pizza Hut and made by company Synn Labs. The vehicle is operational, able to zoom at speeds up to 75MPH, with a weight of two tons and measurements coming in at 16 x 9 x 12 feet.
The pizza thrower is said to have taken about seven weeks to make, and that, as you might expect, getting it to hurl pizzas was a bit of a challenge. The design selected for this task is a pneumatic ram, which propels the pizza using compressed air.
In the video above, you get a brief glimpse of a pizza gracefully soaring above ground.
In an interview earlier this month, the movie's producer Andrew Form reassured fans that the movie will have pizza, saying, "You'll see the world's most operatic pizza scene committed to CGI." It has also been noted in leaked screenshots of an upcoming Teenage Mutant Ninja Turtle game for the Xbox 360 that the pizza boxes have Pizza Hut's logo on them.
SOURCE: Jalopnik