Titanfall launch brings Titans and high-flying pilots to the streets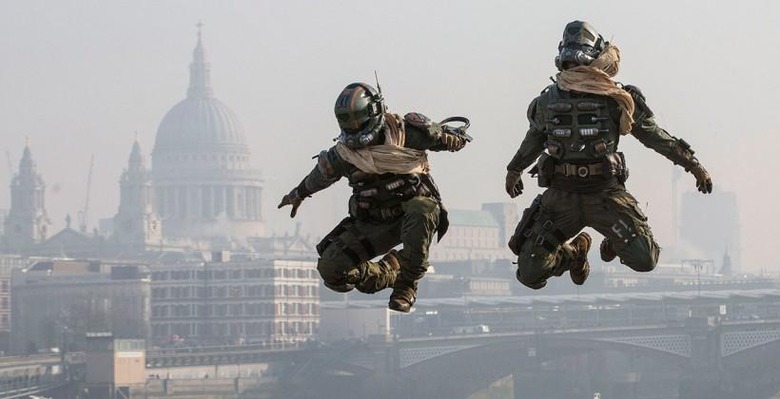 Supposing you weren't aware that the game Titanfall had launched, you may very well be presented with acrobats or a two-story-tall mech soon to remind you. What we're doing today is exploring in brief a number of launch measures pushed by EA Games and/or Respawn Entertainment in an effort to pump up the public about the release of Titanfall. First we'll have a look at the London release, marked by free runners in Titanfall Pilot attire.
Below you'll find a gallery provided by EA Games partner PR, showing what they're describing as "free runners [having] the run of London, wowing commuters with gravity-defying stunts". This launch will take place in the UK starting tomorrow, the 14th of March for Xbox One and PC through Origin.
BELOW: XboxUK release of a "making of" of the pilot action you see above.
The game has already launched in the United States, and will be available worldwide before the end of the month. The Xbox 360 version is set for release on the 25th of March in the USA as well.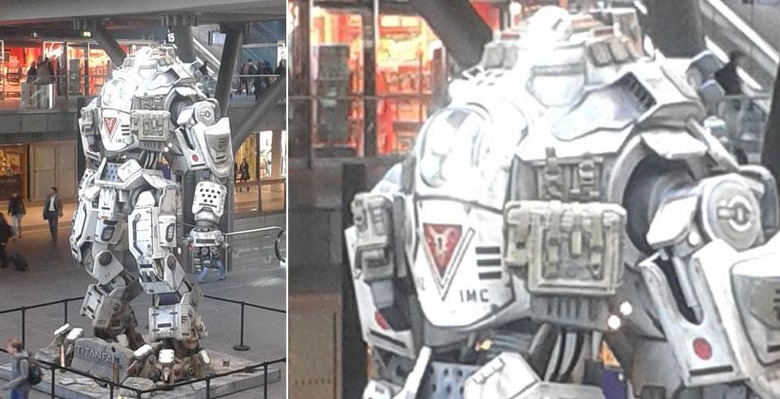 Next you'll have a peek at two angles of a "real sized" Titan sitting pretty in Berlin. This Titan stands in Berlin's Hauptbahnhof (central railway station) and was photographed by DunkinNico and lepotatoe of Reddit within an hour of one another.
UPDATE: Through PlayNation we've discovered that the Titan on tour in Germany is named "Betty" and will be visiting several locations throughout the country this month. Hot stuff!
• Berlin: Donnerstag, 13. März 2014, 9 – 18 Uhr, Hauptbahnhof, Ebene 0, Mittelsteg (zentraler Bereich)

• Hamburg: Mittwoch, 19. März 2014, 9 – 18 Uhr, Europa Passage, Fläche 2 (nahe Starbucks), Ballindamm 40

• Köln: Montag, 24. März 2014, 9 – 18 Uhr, Gürzenich (Foyer), Martinstraße 29-37

• Stuttgart: Freitag, 28. März 2014, 9 – 18 Uhr, Hauptbahnhof, Große Schalterhalle, Höhe Gleis 14-15
There's another life-sized Titan out there traveling about to gaming conventions left and right, one named "Jack". This one is one-story tall to accommodate friendly face-hugs, bursting out of the ground to allow group photos as well. This Titan is also an "Atlas" model, the poster-child for the series. The official @Titanfallgame Twitter account shared this photo before it took additional action here in launch week.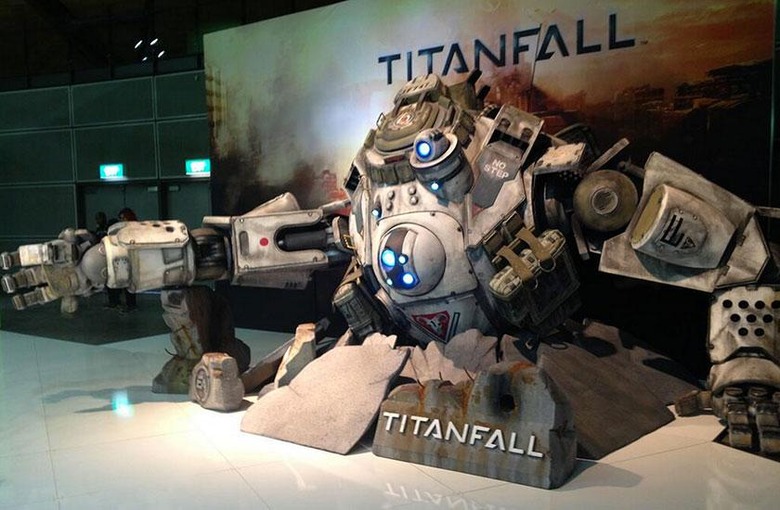 Finally you'll see the setup you'll most likely encounter at your local department store starting this week. This Titan is about 8 feet tall and contains both Xbox One and PC versions of the game, along with a magazine with interviews about the game. There's also a pinch of a strategy guide in there, so have a peek.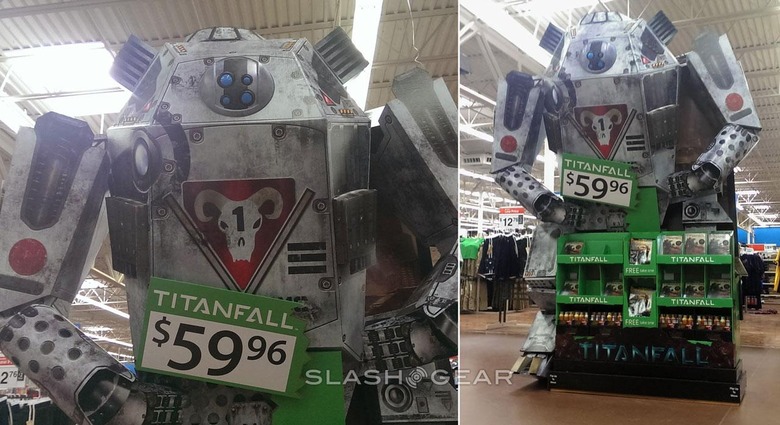 If you've not yet had your fill, have a look at SlashGear's Titanfall Review – there's so much information in there you're going to wish you'd brought popcorn. Bring a few soda pops along while you're at it, and meet us in Titanfall with Xbox Live's BurnsyDelight if you do so dare to get rodeoed.