Titanfall Beta servers down: Microsoft working on fix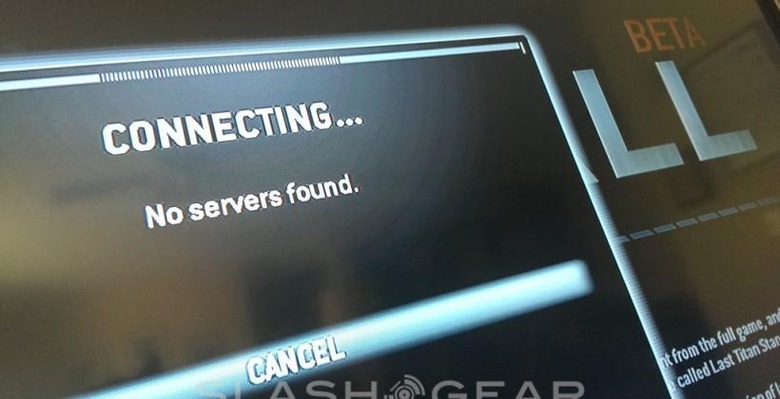 This afternoon servers are in short supply for the Titanfall Beta, owing to a bug rather than to a final limitation for the game. According to Respawn Entertainment developer Jon Shiring, Microsoft is both aware of the bug and is working on a fix right this minute. You'll encounter this situation in gameplay when you see the message "no servers found."UPDATE: With servers back to normal, mostly, Respawn Entertainment decided to make this Closed Beta an Open Beta for everyone starting just one day after launch!
The bug is not limited to the Xbox One as, again confirmed by Shiring, "all servers on all platforms are on Microsoft's Azure platform." While we do not have an ETA for when the issue will be fixed, it does seem as though it's not a complete break-down: some users appear to still be able to jump in on games.
One of the interesting bits you'll notice if you do get in on a game while this issue lives is the fact that you'll not just be battling a single opponent, even if just one opponent joins the game with you. Enemies swarm through your environment regardless of how many real humans run through the system – there's no lack of life, even when there's only a couple of real human brains in the system.
Meanwhile you'll also see users like Eric Neustadter, aka @thevowel speaking up on the subject:
"We're aware of the issues w/ #TitanfallBeta. Betas let us find the bugs. Thx for your patience. We're on it, we'll be back soon!" – Eric Neustadter for Xbox LIVE
While you wait, there's always SlashGear's Titanfall Beta gameplay first-impressions for you to have a peek at. We're continuing to dive deep over the weekend as well – stay tuned!
Above you're seeing one of several hands-on gameplay videos we've got prepped for you from our first encounter(s) with Titanfall Beta. If there's anything specific you'd like us to try, or anything about Titanfall you'd like to know, ask away!